Contactless Event Badges: Ensure Guest and Staff Safety
You're probably going to organize an event. It could be a conference, seminar, webinar, or even simply a party. And you want to ensure the best possible arrangements for the same.
And event badges are one of the many things that are used to streamline the arrangements. But here's the thing—traditional paper-based badges are a bit outdated today. They not only involve a lot of manual effort but also involve physical contact.
And ever since the pandemic has hit the world, everyone prefers contactless services and social distancing. So you're looking forward to a better alternative—contactless event badges.
In this article, we'll discuss how you can make contactless badges easily. But before that, let us see who these badges will be relevant for.
A. Who can use contactless event badges
There are 2 chief stakeholders who may use these badges:
1. Event management team
Event coordinators are responsible for the proper conduction and security of an event. They manage everything from proper seats and refreshments for the guests to back-stage arrangements. And attendees can reach out to them in case of any emergency.
Hence, it is important that guests and performers are able to spot the event management team easily. This is what the badges can help you with.
And of course, to avoid any kind of physical contact, these badges make use of QR Codes. For the uninitiated, QR Codes are advanced barcodes that can store information. They in fact go a step ahead of barcodes to store up to 7,089 characters.
That means you can store text, numbers, and even website links into a QR Code.
What will go into the QR Codes on the badges of the event management team depends on you. For example, it can have the contact information of the badge holder, their ID number, etc.
As attendees scan it using their smartphone, they'll be able to see the encoded details in no time.
2. Event attendees
Trespassers and unauthorized guests are always a headache for any event. They do not only risk the security but also translate into a loss of business.
And to differentiate between authorized and unauthorized guests, contactless event badges can be of great help. How?
You can add all the attendee's details to the QR Code on the badges. When event coordinators scan this QR Code, they'll get all this information on their phone screen. No need for you to install any expensive set-up.
In addition, scanning a QR Code doesn't take more than 2-3 seconds. Hence, it will speed up the process of authentication of entries.
B. Why use QR Codes on event badges
QR Codes offer various benefits while allowing you to see the encoded details. Here are some of them:
1. High storage capacity
As we discussed earlier, QR Codes can store up to 7,089 characters. This makes them capable of storing alphanumeric content. Not sure what it means?
Well, you can add information such as name, contact number, website link, or even email address to a QR Code.
2. Damage resistance
QR Codes offer a unique feature called error correction. It ensures that your QR Code can scan well even after it gets damaged, distorted, or dirty by up to 30%
3. Personalized design
As an event manager, you'd definitely like to add some branding to your managerial effort. And these contactless event badges can help you do it.
You can design the QR Codes on these badges by adding your brand's colors and logo to them. Or you can even add a background picture to make the QR Codes look branded.
4. Easy to set-up
QR Code creation doesn't require any special skills. You just need to head on to a QR Code generator to do the job.
And that's not where it ends. Unlike barcodes, you don't need to invest in dedicated handheld scanners to scan QR Codes.
A camera-enabled smartphone is all that you need to get started.
5. Actionable
QR Codes make the badges actionable. A simple scan is all that the end-users need to do to see the encoded information without much manual effort.
C. Popular use case of QR Codes on event badges
1. Conventions
Conventions often consist of a large group of people, sometimes in the tens of thousands. And you want to offer your audience a safe and secure event. That means no trespassing or unauthorized entries.
In such situations, QR Code based contactless event badges can be of great help. When event coordinators scan this QR Code, they can view the attendee's complete information.
Thus, you can differentiate between authorized and unauthorized guests easily.
2. Work events
Various companies host events for their employees. They could be for better networking, skill improvement, sharing annual business reports, or building coherence among the employees.
In such events, employees are usually given badges with their contact information.
QR Code-based contactless event badges can go a step ahead of the traditional ones. They can give the end-users each-others contact details with a simple scan. No need for them to manually type anything. All that they need to do is—scan the QR Code and save the contact. It's that simple.
3. Entertainment Events
Just like the previous use cases, entertainment events such as concerts, plays, or festivals, require event badges for event coordinators. They help guests and participants easily identify the event management team.
But amidst the pandemic, people are skeptical of close interactions. This is where QR Code-based contactless event badges can help you out. People can scan these while keeping a fair distance. This helps them follow all social distancing norms easily.
When scanned, the QR Code will take them to the contact information of the badge holder. It could be her name, ID number, contact number, supervisor name, and email ID.
D. How to create QR Codes for event badges
You now know why it makes sense to use QR Codes on event badges. So, the next question is—how to create them?
Well, you can head on to a QR Code generator and create QR Codes one by one. But this process is neither ideal nor efficient if you need to create multiple QR Codes. It will consume a lot of your time and effort.
Hence, to generate them in bulk, there are two ways:
1. Bulk QR Code generator
You can create a whole bunch of QR Codes with unique information in one go. There are various bulk QR Code generators available online. A simple Google search will fetch you many results to choose from.
Using QR Batch here to demonstrate how to generate QR Codes in bulk:
1. Create a spreadsheet containing all the information to be encoded in the QR Codes in CSV, XLS, or XLSX format. Here's a detailed guide on how to create it for your use case
2. Go to QR Batch and sign-up
3. Select the suitable QR Code category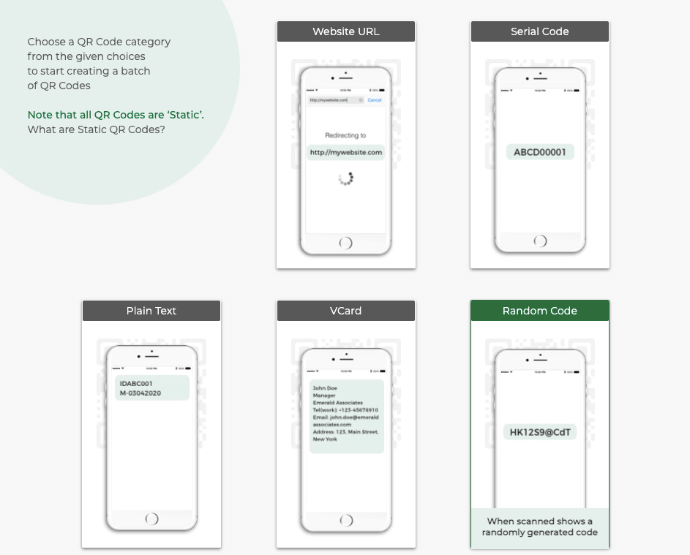 4. Upload the spreadsheet that you created and click Review Data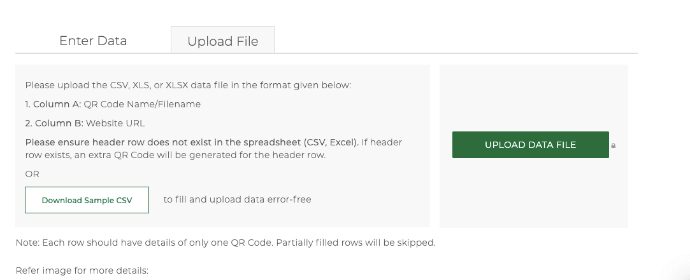 5. Now, match the columns from the drop-down menu with those in the spreadsheet and click Confirm
6. Once you've reviewed the data, click Next
7. Now, you'll see three design options—Standard Design, Custom Logo Design, and Custom Background Design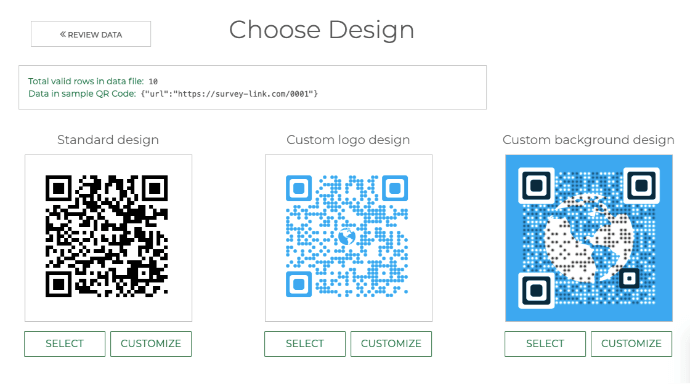 Standard Design: It gives generic black-and-white QR Codes.
Custom Logo Design: It allows you to add a logo and color to your QR Codes.
Custom Background Design: It helps you add an image as QR Codes' background.
In case you'd like to design the QR codes, here's a detailed guide on how to do it.
8. After finalizing the design, click Select
9. A window will open prompting you to name the QR Code Batch and specify the image's size and format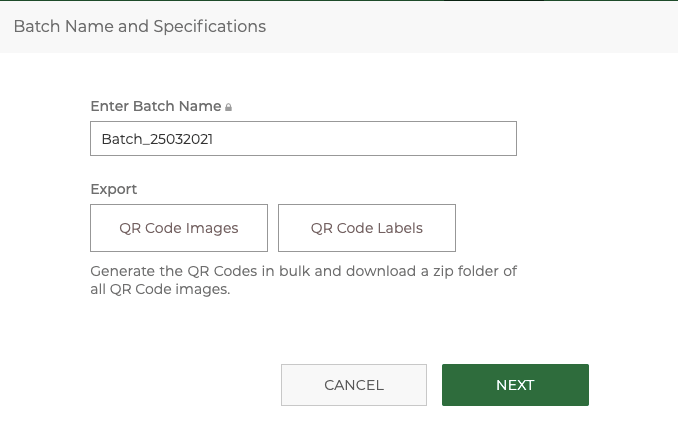 10. Specify the details and click Proceed To Payment
11. Once completed, your batch of QR Codes will start getting processed
12. After processing, you'll receive an email with a zip file containing all the QR Codes
Alternatively, you will also be able to download the batch from the My Batches section in your account dashboard.
That's it. Your QR Codes will be downloaded and ready for use.
2. QR Code API
The second way is by integrating your information system with QR Code generation using QR Code API.
It allows you to generate QR Codes programmatically in real-time within your system. Hence, you won't need any additional software or tools to create the QR Codes manually.
That's it. That is all you need to know about QR Codes on event badges. You can now create contactless event badges to make your event smooth and hassle-free.
Also, in case you're looking for a way to create secure entry tickets for your event, here's a tool that's already being used by some of the best event companies.