QR Codes on CPG Labels: Keep Your Customers Informed and Engaged
You probably run or manage a CPG company. And a core part of your job is to package your products. So you want to make the most of it. You do not only want the packaging to add to your product's presentation but also help you maximize your business.
So you're planning on adding QR Codes on the CPG labels. But the question is—what would these QR Codes do? Or what are the possibilities that can throw the doors open for a better business?
The answer is—there are many such possibilities. There's a lot that you can do with these QR Codes.
For example, you can provide complete product details to your customers. Now you may think that you can any way give product details straight via packaging, right? But there's a catch. The limited printing space on the packaging makes it's impossible to add every detail. But giving detailed product information helps you ensure transparency and build customer trust.
This is where QR Codes can help you. And that's not the only use case of QR Codes on CPG labels. In this article, we'll talk about many of them in detail. Keep reading to know more.
A. How QR Codes on CPG labels can be useful
Let's now deep dive into seven ways QR Codes can help you:
1. Provide detailed product information
As discussed earlier, QR Codes can help you add product details to the packaging. And there are two ways to do it.
The first is—by creating a Text QR Code. You can do it if the details to be added to the QR Code aren't too many. Here, you can add information such as product ID, manufacturer's name, and manufacturing date to the QR Code.
As customers scan the QR Code, they'll be able to see all these details on their phones in no time.
The second is—via a website URL QR Code. This is useful if you already have a website where you have the product details. In such cases, you can encode the website link into the QR Code. As customers scan it, they'll be able to go to your website in no time without having to manually type the URL.
Note that in case you don't have a website and yet need to add in-depth product information to the QR Code, you can create a Product QR Code. It helps you create a dynamic landing page without the need for hiring a software developer to do the job. But note that you'll only be able to create such QR Codes one-by-one.
2. Drive web traffic or gain social media followers
Do you have a website? It could be to provide information about products, give discounts, or to get people to purchase online. Then you'd want people to visit it.
A Website URL QR Code can help you do that. Just create one and place it on the product labels. Your target audience would be able to scan it to visit your website in no time. No need for them to pull out their phones to tediously type the URL to finally access your website.
In addition, if you want to increase your followership on social media, a Website URL QR Code can help you do it too. Simply encode the link to your desired social media account in the QR Code. On scanning it, the end-users will be able to see your account easily and follow you right away. Easy, right?
3. Product Verification
For almost every product in the market, there's a duplicate copy present. And such forged copies are usually low in quality which puts your brand reputation at risk. And you'd not want that to hurt your business, right?
A QR Code can help you here. If you have a website, you can have a unique webpage attributed to each product. These web pages may include the manufacturing date, product ID, and serial number for respective products.
Since the data will be hosted on your own website, none would be able to fiddle with it. You can then go ahead to create a Website URL QR Code for each webpage and add it to the required product. When customers scan it, they'll be taken to your website to verify the authenticity of the product.
4. Offer discounts and coupons
You know the importance of discounts and coupons. They help you acquire new customers or push repeat purchases. And QR Codes can help you do it smoothly. How?
Simply create QR Codes having coupon codes and add them to the product packaging. As customers scan the QR Code, they'll be able to see the coupon code.
This does away with the need for them to remember the coupon code themselves. All they need to do is—scan the QR Code and redeem the coupon.
5. Gather customer feedback
Customer feedback is essential for a business. It helps identify whether your customers are enjoying your products or not. In case some of them are not, it helps you know where you need to improve.
To get their feedback, you'd need them to fill a feedback form. But getting customers to do it is not easy. That's because they have to open their phones, manually type the form URL, access it, and finally fill the form.
Don't worry. This is where QR Codes can help you. You can create a Website URL QR Code and encode the form URL in it. Customers can simply scan the QR Code to access the form. Simple, right?
After all, the easier the process, the better are the conversions (feedbacks here).
Also, here's a guide on how you can increase the response rate for your surveys. Make sure you read it before planning your feedback forms.
6. Manage inventory
You probably use barcodes for inventory management purposes. Even though barcodes help you in smooth logistical operations, they come with their own share of problems:
a. They store limited information—only up to 20-25 characters
b. Barcodes can only be scanned with dedicated hand-held scanners
c. If damaged, barcodes are rendered non-scannable (which is quite common during inventory handling)
d. Barcodes can't be custom designed as per your wish
This is why QR Codes are becoming a preferred choice over barcodes. They overcome all these problems to offer you additional benefits.
To create them, you can either use a bulk QR Code generation service (create QR Codes in bulk). Or, if you have your own information system, you can use QR Code API to integrate QR Code generation into it. With QR Code API, you can generate QR Codes programmatically in real-time without any manual intervention.
7. Raise awareness for a noble cause
Are you working towards a noble cause? Then why not share it with your customers? It will not only help strengthen your goodwill but some of them might also join you in the cause. And QR Codes can help you do it easily.
B. Examples of CPG companies using QR Codes
1. Amul
Amul, an Indian dairy brand, uses QR Codes on its dark chocolate product packaging. When scanned, they redirect the end-user to Amul's website to learn more about the brand and its offerings.
2. Nestle
In 2015, Nestle's instant noodles Maggi was banned nationwide by the Food Safety and Standards Authority of India (FSSAI). It was said that these noodles had impermissible levels of lead.
But soon the ban was lifted. And Nestle decided to use QR Codes to give the product's nutritional details to the customers. Customers can scan them to visit a mobile page containing the product's nutritional information, source, and various recipes.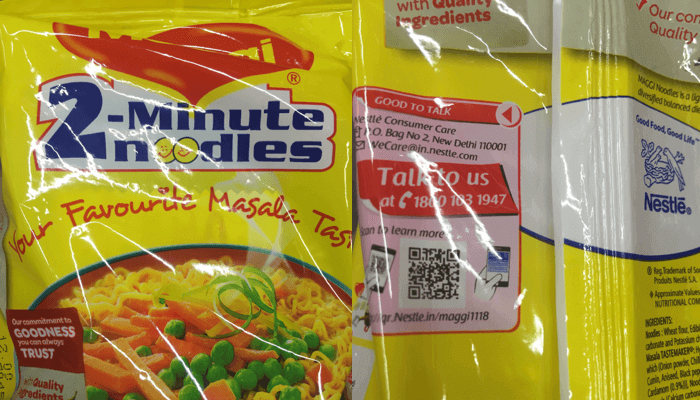 3. SmartLabel
SmartLabel is an initiative by the US Grocery Manufacturer association. Its aim is to promote product transparency among shoppers. And they are using QR Codes on the products to accomplish their goal.
4. Tata
Tata Tea, a popular tea brand in India, added QR Codes on its packaging for a noble cause. When scanned, it redirected the end-users to its 'Jaagore' Consumer Rights campaign.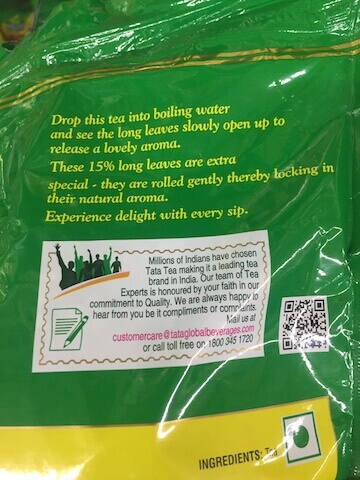 C. How to create QR Codes for CPG labels
You now know how QR Codes on CPG labels are useful. So, the next question is—how to create them?
Well, since you're a company that manufactures a lot of products, you'd probably need to create many QR Codes. And doing that one by one will be quite a task.
So we suggest that you create QR Codes in bulk. And there are two ways to do it:
1. Bulk QR Code generator
A bulk QR Code generator allows you to create a whole bunch of QR Codes in one go. You can head on to any search engine and find the best bulk generator as per your use case. And for your convenience, here's a comparison chart of the best bulk QR Code generators online.
Using QR Batch for a demo, here's how to generate QR Codes for CPG labels in bulk:
a. Create a spreadsheet containing all the information to be encoded in the QR Codes. And download it in CSV, XLS, or XLSX format
b. Go to QR Batch and sign-up
c. Select the relevant QR Code category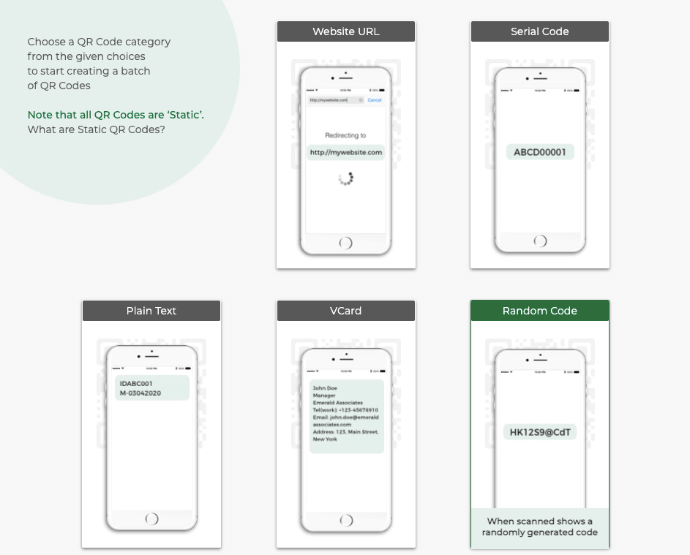 d. Now, upload the spreadsheet that you created in the first step and click Review Data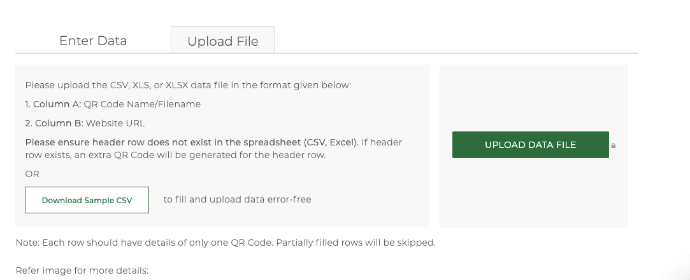 e. On the page that loads, match the columns from the drop-down menu with those in the spreadsheet and click Confirm
f. Once reviewed, click Next, You'll see three design options to choose from—Standard Design, Custom Logo Design, and Custom Background Design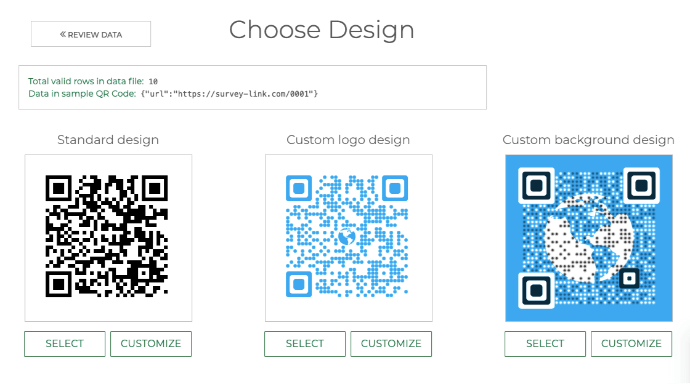 Standard Design: It gives generic black-and-white QR Codes.
Custom Logo Design: It allows you to add a logo and color to your QR Codes.
Custom Background Design: It helps you add an image as QR Codes' background.
g. After you've finalized the design, click Select. A window will open prompting you to specify the QR Code image details (size and format)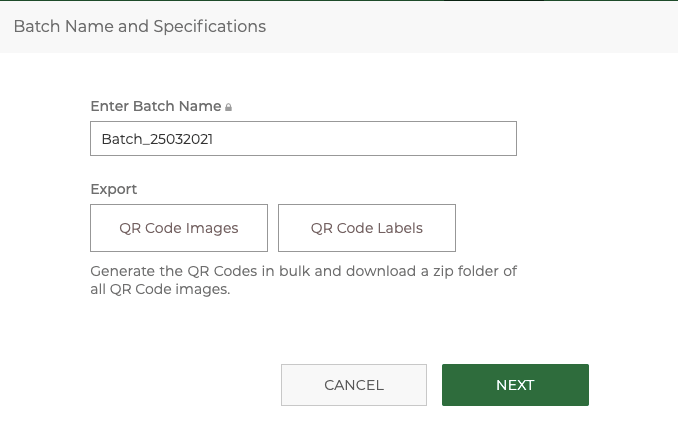 h. Specify the details and click Proceed To Payment
i. Your batch of QR Codes will start getting processed
j. Once completed, you'll receive an email with a zip file containing all the QR Codes
Alternatively, you will also be able to download the batch from the My Batches section in your account dashboard.
That's it. Your QR Codes will be downloaded.
2. QR Code API
If you have your own information system, you can integrate the QR Code generation service into it. A QR Code API can help you to do it.
It will help you generate QR Codes programmatically in real-time within your system. No need for any manual intervention to create QR Codes.
That's it. That is all you need to know about QR Codes on CPG labels. You can now create QR Codes for your own products to boost your business and customer engagement.