You are a marketer who uses postal mail campaigns to sell your products or services. In these postal mails, you put pamphlets, letters, coupons, or cards to engage your customers.
In an era of email marketing, you believe that the postal method will make you stand out. And will catch your client's attention. But you know it's not free from challenges.
Unlike emails, you are not able to track who actually received or opened your mail. So, many-a-times, your post may find its place in the bin. But you, by no means, can keep a record of this.
Plus, you cannot have any data on how many people were driven to take the action you called for in your mail. For example, you cannot track who all viewed your website or made a purchase at your store.
But there is an effective and affordable solution that can help you do it—QR Code. That's right. QR Code can help you make your postal mail campaigns interactive and trackable.
Postal mail marketers are also using them to get better engagement and conversions.
Keep reading to know how QR Code can make postal mail campaigns more effective.
A. How QR Codes can make postal mail effective
As you know, QR Codes are 2D barcodes that can store a lot information. These include website URL, detailed information, and multimedia content. The content linked in the QR Code can be scanned simply by using a smartphone.
They are now being used in many operations across industries.. From product packaging to payments, they are useful everywhere.
Here are its advantages of postal mail campaigns using QR Code:
1. Strong call-to-action element
Since you can encode linked content, your clients will quickly be able to access it.
For example, say you have stored your website link in the QR Code. This saves your audience the hassle of typing the link manually to access the website. So it becomes easier for them to take the desired action.
Your customers just have to scan the QR Code. And that's it. Then they straight go to your website.
2. Keep track of the progress
With a QR Code, you can track how well your postal mail reached out to people. This means you can get data details of who, when, where, and how of scanning activity of your QR Code.
This, postal mail campaigns using QR Code will thus provide you valuable analytics about your client base.
Coupons are great means to attract customers. And QR Codes can help customers easily avail their benefits. That's because, with QR Codes, customers don't have to remember the same old random coupon characters. Instead, they just need to scan the QR Code to avail of the coupon easily.
B. How to track the conversion rate of your QR campaign
You know that you can scan track your QR Code. But how?
Let's start with an example—say you have launched a new product and want to tell your customers about it. So, you design a card where you give them the product details and your website link. And send this to postal mail.
But now you need the exact data of how many clients actually opened the link. Something that's not possible with conventional post mail medium.
But if you add a QR Code with your website URL, you can track how many people actually scanned it.
How?
By using Dynamic QR Codes. They are advanced QR Codes that allow content editing, scan tracking, and event tracking.
Hence, it allows you to get the aggregate number of people who scanned the QR Code. This way, you can actually measure the conversion rate. This will help gain valuable insights into your campaign.
You can also know the minutest details about the scan including device, browser, city, and time. In addition, you can also see how your target audience interacts with the encoded content after scanning the QR Code. This is made possible by the Event Tracking feature.
So, here is what you need to do— create and print dynamic Website URL QR Codes on your cards/ pamphlets/letters. And add a help text like 'Scan to know more about the product'.
You can then make copies of your postal mail, and then send them to your potential customers.
This is possible only for dynamic QR Codes. Static QR Codes don't have this feature inbuilt. To track them, users will have to take the help of UTM Tracking.
Here, you use website links with UTM parameters to track static QR Codes. For more details, check out this guide.
On scanning, your customers will simply land on your website. And view detailed information about the product/service.
C. How to track who scanned your QR Code?
You now know how to track the conversion rate of postal mail campaigns. But do you know the details of potential customers and lead?
To get that, you usually use the customer relationship management (CRM) tool. It allows you to track the progress of your sales lead while sending emails. It has information such as— customer ID, name, email, contact details, stage, and notes.
And you often have to change it based on the response of your leads.
But with postal mail, you really cannot track which lead is interested.
However, QR Codes can provide you exactly this information. How?
All you need to do is—add customer ID as a parameter to your website URL. Then create and print a unique QR Code for every client with the customized link encoded.
When the lead with the respective ID scans it, you will get the required information.
D. How to create QR Codes for postal mail campaigns
You now know all about QR Codes for postal mail. Let's see how to create them?
Since you need postal mail in high numbers, it makes sense that you generate QR Codes for bulk for the same purpose. That's because creating them one by one will just take a lot of time.
And you can generate both dynamic and static QR Codes in bulk.
So if you have a use case that needs you to track campaign performance, you can go ahead with the dynamic ones.
That's because dynamic QR Codes are trackable. But the same doesn't hold true for static ones.
However, as mentioned earlier, you can track static QR Codes with weblinks via UTM tracking. Here's a quick guide on how to do it.
For steps on how to create dynamic QR Codes in bulk, refer to section number 1 below. For detailed steps to create static QR Codes in bulk, go to section number 2.
1. Generate dynamic QR Codes in bulk
a. Head on to QR Code generator
Go to Scanova. From the dashboard, click on Bulk Operations followed by clicking on New Operation. Once done, you'll see three options to choose from—Generate, Update, and Download.

Here, click on Generate. This option will allow you to generate dynamic Website URL QR Codes in bulk.
b. Create a spreadsheet data file
To generate such QR Codes in bulk, you will need to create a spreadsheet (in CSV or Excel formats). This spreadsheet will contain the data that to be encoded in each QR Code. It should have one row of data for each QR Code.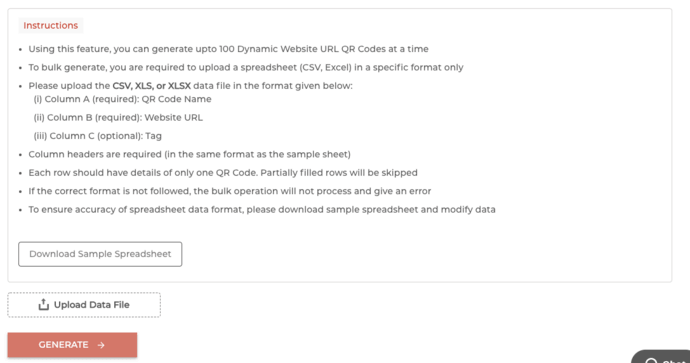 Here, the first column will have the QR Code filename. The QR Code images that will be generated in the zip folder will have these filenames. The second column will have the content that needs to be encoded in QR Codes. And in the third column, you can specify your QR Code tags.
The first and second columns are mandatory while the third is optional.
c. Upload the file
After creating the data spreadsheet in CSV or Excel formats, you need to upload it.
d. Design QR Codes
Now, you will see two design options to choose from—Standard Design and Custom Design.
Standard Design– It represents generic black-and-white QR Codes
Custom Design– Here, you can select any design from saved design templates in the Scanova QR Code generator

e. Generation
Once done, you'll receive a notification. It will indicate that the bulk generation has begun.

Once it gets completed, you'll receive the notification via email. You can also view and track its status using the Operations Tracking table.
That's it. Your dynamic QR Codes will be downloaded and ready for use.
2. Generate static QR Codes in bulk
Static QR Codes are standard QR Codes that are permanent in nature and can't be edited.
Using QR Batch for demo purposes, here's how you can generate them:
1. Create a spreadsheet of the information you need to encode in the QR Code
Note that the first column should be 'Filename'. But second column onwards, data varies according to the type of QR Codes you create. Here's a detailed guide on how to create a spreadsheet.
2. Download the spreadsheet in any format— CSV, XLS, or XLSX
3. Sign in to QR Batch
4. Once done, click on Create Batch on the dashboard
Here, you'll see two batch options to choose from—Generate QR Code Images or Generate QR Code Labels. Generate QR Code Images allows you to download your QR Codes as images.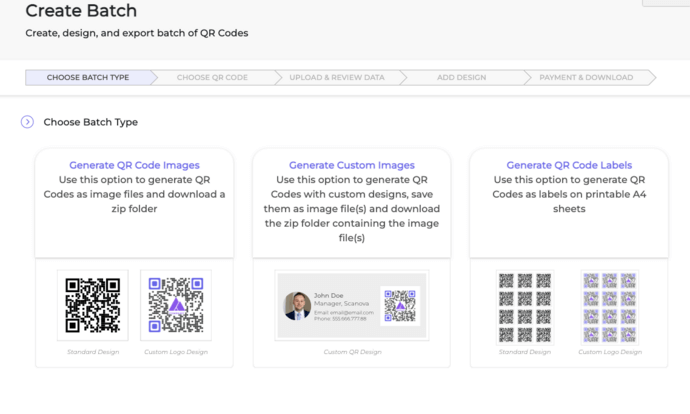 Generate QR Code Images allows you to download your QR Codes as images. On the other hand, Generate Custom Images allows you to generate QR Codes with custom designs.
With Generate QR Code Labels option, you can generate QR Codes as labels on printable A4 sheets.
For example, if you want to encode coupon codes, you'd have to select Plain text QR Code
5. Now, depending on what content you want your end-users to see, select the QR Code category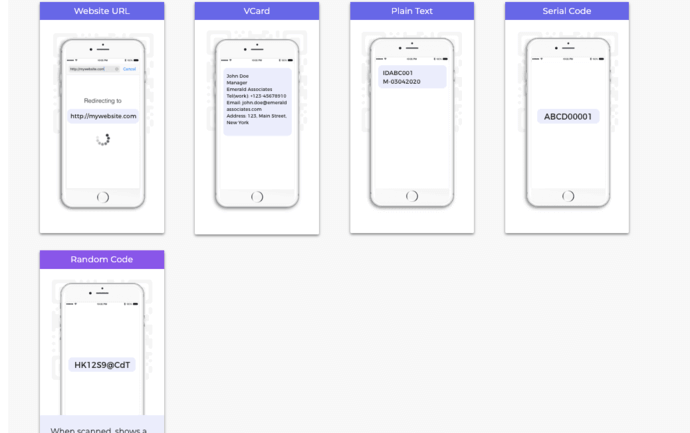 For example, if you want to encode coupon codes, you'd have to select Plain text QR Code
6. Upload the spreadsheet and click Review Data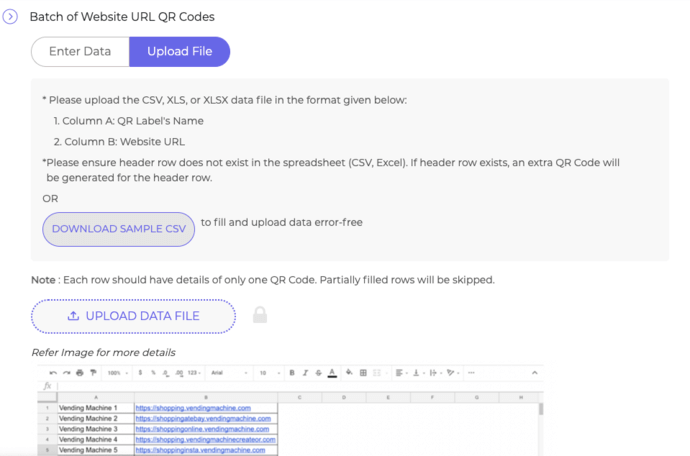 7. On the page that loads, match the columns with the spreadsheet from the drop-down menu and click Confirm
8. Once you've reviewed the data, click Next
Design
9. Now, you'll see three design options to choose from—Standard Design, Custom Logo Design, and Custom Background Design. The standard design is the generic black-and-white QR Code. The custom logo design allows you to add a logo and color to your QR Codes. On the other hand, the custom background design helps you place your QR Code on an image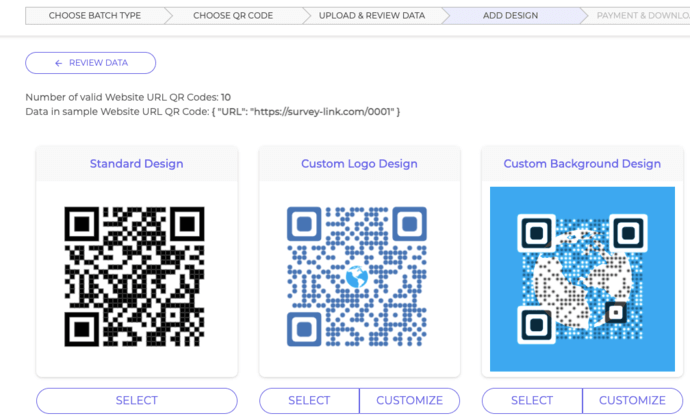 10. After finalizing the design, click Select
Size and format
11. A window will open prompting you to specify the QR Code image details (size and format). For example, if you have selected Generate QR Code Images, you will see the following options:
On the other hand, if you had selected Generate Custom Images option, you'd see the following options:
Name the batch

Specify QR Code size and Canvas dimensions

Export formats—PNG, JPG, and PDF
With Generate QR Code labels option, you'd see the option to name the batch and choose the label sheet layout.
12. After you specify the details, proceed to Payment. Once you complete it, your batch of QR Codes will start getting processed
13. Once processed, you'll receive an email attached with a zip file containing the QR Codes. Or you can download the batch from the My Batches section in the dashboard
So, you now know that QR Codes can help you know the conversion rate of your client base. Besides, they are actionable, tech-savvy, and modern.
So marketers, postal mail campaigns using QR Code will help you make most of the smartphone technology. Create QR Code now before your next set of postal mail goes out.
Create QR Codes for Postal Mail Campaigns
Create visually appealing static QR Codes for your postal mail campaigns to attract more scans.