Memorials are meant to commemorate the deceased person. They act as historical touchstones preserving information about the departed.
Through memorials, people show the value and importance of the person who expired. Hence it is precious and often considered as a final gift.
Thus, to honor and remember the life of the deceased person, people will want to express as much love as they can. And they want the words to be etched on the memorials for a lifetime.
Though lettering on stones generally lasts long, it needs continuous touch-ups. Plus, people can express only a few words for the dead due to limited space.
So, one of the ways through which people can express more is with the use of QR Codes. With QR Codes in almost every field today, it is not a surprise to spot a QR Code on a memorial.
In fact, various funeral homes in nations such as the USA and UK are already using QR Codes on memorials.
Keep reading.
A. QR Codes: A brief
QR Codes are popularly known as advanced barcodes. They are increasingly becoming popular in the world and here are the reasons why:
Firstly, QR Codes can link unlimited information. This can be both text-based and multimedia content. That is, you can link a QR Code to a text, image, audio file, and video clip.
Secondly, they can be easily scannable via a smartphone camera. You don't need any handheld scanner to decode the information linked to a QR Code.
Thirdly, QR Codes occupy very little space. The information in a QR Code is encoded in its data modules. Hence, they do not expand horizontally but become denser as more information is added. Hence, the more the information, the denser the QR Code.
Lastly, QR Codes can resist damage up to 30%. Hence, given an environment such as a cemetery, QR Codes will still be scannable.
Hence, a QR Code on a memorial will prove to be a great tribute to the departed. In the next section, we will show how.
B. Why use QR Code in memorials
Nowadays, people usually resort to social media to express their grief over the loss of a person. The proliferation of memorial websites has made the memorialization of lost loved ones even better.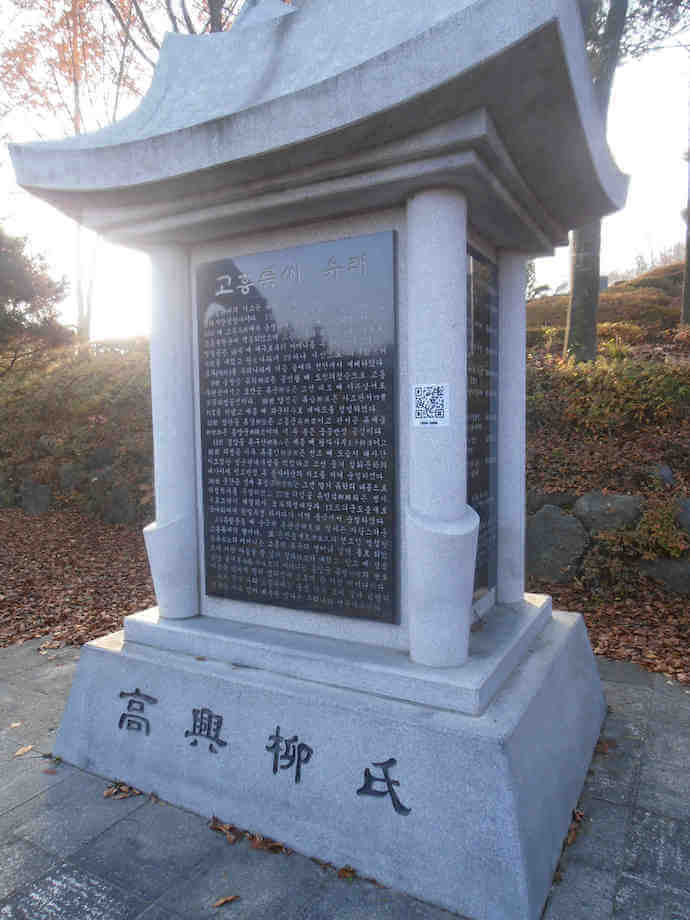 Yet in order to eternalize the memory of the dead, QR Codes are being used in memorials. Thus, with the use of QR Codes, these sites are turning into smart spaces.
A memorial with a QR Code is known as a digital memorial or a living gravestone. As the words denote, QR Codes can actually help the departed to be remembered forever. Here are the reasons why you should use QR Codes on memorials:
1. Express more love
With QR Codes, you can express as many words as you want. Besides, you can link the QR Code to their memorable images and videos. This way, you can add interactivity to the memorial.
2. Pay tribute online
You can link the QR Code to a memorial website. These websites provide a platform to commemorate the deceased with multimedia. It could be their images, text, and videos. Upon scanning, the visitors can see an online memorial. This acts as an enhancement to the memorials.
Hence, QR Codes help offer a much richer experience in memorializing the deceased.
3. Immortalize the memory
Since a QR Code is damage resistant, it can immortalize the memory of the dead. Since the memories are worth sharing and cherishing, QR Codes provide a new way to make them last forever.
Moreover, this way, children will be able to learn all about their grandparents they couldn't meet.
In fact, in about a decade or so, adding QR Codes to the cemetery will become common.
4. Provide in-depth detail
Talking about the dead person in detail is one way of expressing respect. QR Codes can link unlimited information. Thus, QR Codes can help give detailed information about the deceased person. One can tell the story of the dead person, which can be then accessed by the future generations to come.
Robert Williams, s service provider of QR Codes for memorials in Newton says,
"I think what's appealing is by having a QR code there's a chance to have so much more information on lost loved ones, compared to a normal memorial where space is limited. By having the QR code you can say what they did in their life and tell their story. We just want to move with the times and see this as doing just that."
Hence, QR Codes are helping us remember the departed with a permanent reminder and making graveyards smart.
Now let's move on to see how countries across the globe are using QR Codes on memorials.
C. Some examples
Developed countries are using this technology to provide a special touch to memorials. See how countries are using it:
1. Turkey
In a busy street in Ankara, the capital of Turkey, is a digital memorial reading " a woman was murdered here". Upon scanning, the viewers can read a chilling account of Ceren Damar, the lecturer. She was killed by one of her students in January 2019.
The signboard is among dozen others, which have been erected on the crime scene. The endeavor aims to create awareness about the widespread woman's murder in the country.
2. Denmark
Funeral companies in Denmark are adding QR Codes. These QR Codes honor the dead with a link to their online presence. The largest gravestone manufacturer in Denmark has incorporated this technology in memorials.
"But there are lots of people who are important and I think their story and what they have done with their life is important. I think it's very important for the next generation to have this memory. And which QR Codes, we can make it possible"
—Firm's director, Neils Kristial Nielsen
3. New Zealand
Legacy Maker, a funeral company in Wellington, New Zealand, uses QR Codes on memorials. The QR Code links to a website that tells the deceased person's story.
"We are very excited about the opportunities this idea creates, not just for healing for grieving families, but also for the genealogy world. It's a great way to organize and preserve family history."
—Camille Barnett, company owner of Legacy Maker
4. England
A 139-year-old memorial made up of glacial rocks in Yarmouth is situated on the burial site of the last Native Americans. It is an Indian Memorial, which has a QR Code on it. Upon scanning, the viewers can access more information online.
Furthermore, in Almondsbury Memorial, England, the Government is using QR Codes. They are being used to pay tribute to their brave men. 111 village men who fought and 24 who were killed in the Great War are identified in a specific area of The Roll of Honour. While a bomb-damaged it during World War II, it was later repaired.
There is a special marker next to the memorial with QR Code. Each QR Code links to a website that provides information about soldiers.
5. Philadelphia
In Philadelphia, a woman named Lorie Miller added a brass square over her grandparents' grave. And on this square, a QR Code was printed. Her headstone looked the same as all others except for the QR Code.
As visitors scan the QR Code, they're sent to a personalized Web page for the deceased.
Hence, different countries are now using QR Codes on memorials. And permanently preserving the memory of the departed.
Also read: QR Code on headstones
D. How to create QR Codes
Now let's detail on how to create QR Codes. You can use either of the ways to generate QR Codes:
1. Create QR Codes one-by-one
You can create a QR Code for the departed by using an online professional QR Code generator such as Scanova. Here, depending upon the content you want to encode, you can choose a QR Code category.
For example, if you want to link the QR Code with the deceased person's image, you can choose the category of Image QR Code.
2. Create QR Codes in bulk
This way generally caters to people administering memorials or cemeteries. They are usually popular tourist spots. In order to create QR Codes in bulk, you need a bulk QR Code generator such as QR Batch.
It allows you to create the following two types of QR Codes:
Website URL: Upon scanning, the QR Code will direct the viewer to a webpage
Text: You can encode text such as the expired person's story or other details about them
In brief, these are the steps, which you need to follow:
a. Create a spreadsheet containing all the information to be encoded in the QR Codes. Here's a detailed guide on how to create it for your use case
b. Go to QR Batch and 'Sign Up" for an account
c. Now, on the page that loads, you need to choose the QR batch type from the following options—Generate QR Code Images or Generate QR Code Labels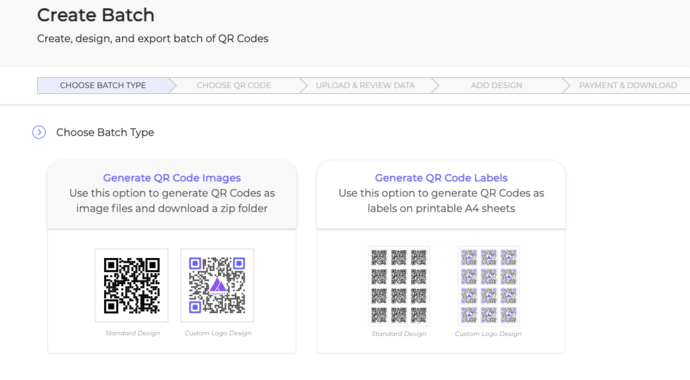 Generate QR Code Images option allows you to download your QR Codes as images.
On the other hand, Generate QR Code Labels option allows you to generate QR Codes as labels on printable A4 sheets.
d. Select an appropriate QR Code category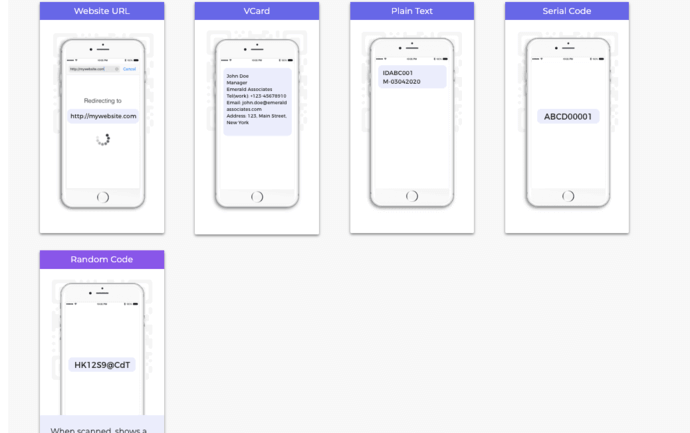 Upload the spreadsheet
e. Upload the spreadsheet and click Review Data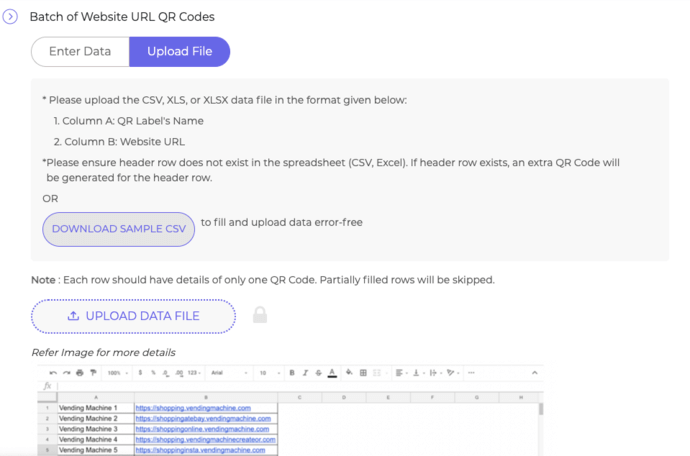 f. Now, match the columns from the drop-down menu with those in the spreadsheet and click Confirm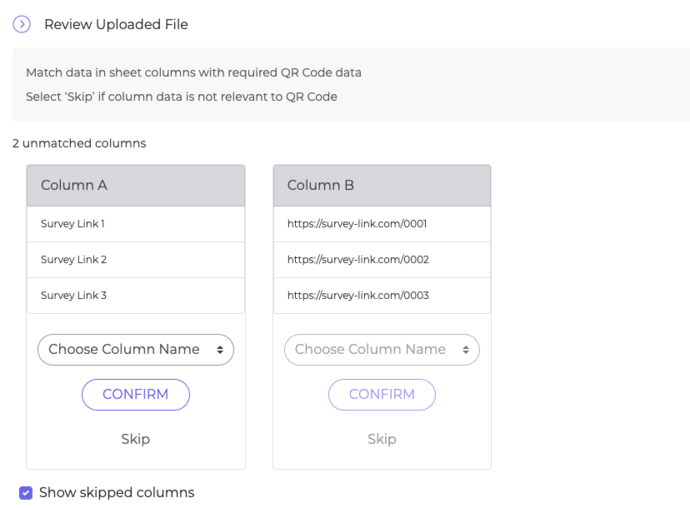 g. Once you've reviewed the data, click Next
Choose the design
h. Now, you'll see three design options—Standard Design, Custom Logo Design, and Custom Background Design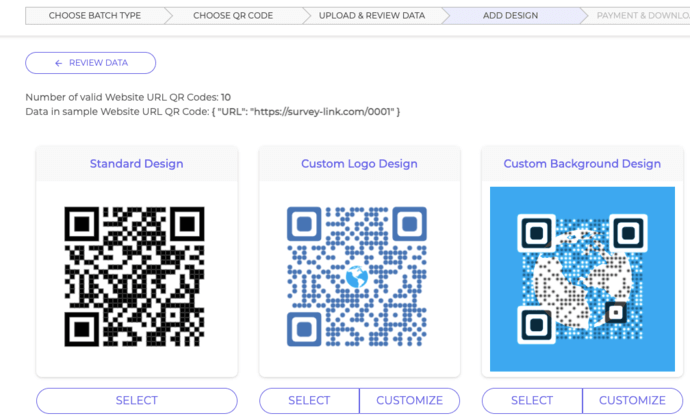 Standard design: It gives generic black-and-white QR Codes.
Custom Logo Design: It allows you to add a logo and color to your QR Codes.
Custom Background Design: It helps you add an image as QR Codes' background.
i. After finalizing the design, click Select
j. Now, specify QR Code size and format. Now, if you had selected Generate QR Code Images as batch type in the beginning, you'll see the following options—PNG, JPG, SVG, EPS, and PDF. On the other hand, if you had selected Generate QR Code labels option, you'll see the options to name the batch, and choose the label sheet layout
k. Make payment. Note that you pay only for the QR Codes you create
l. After processing, you'll receive an email with a zip file containing all the QR Codes
m. Download your QR Codes in a zip folder
This is all you need to know about QR Codes in memorials. The technology helps you express more, thus enhancing the memory of the deceased people.
QR Codes for memorials
Create QR Codes to enhance memory of the lost ones.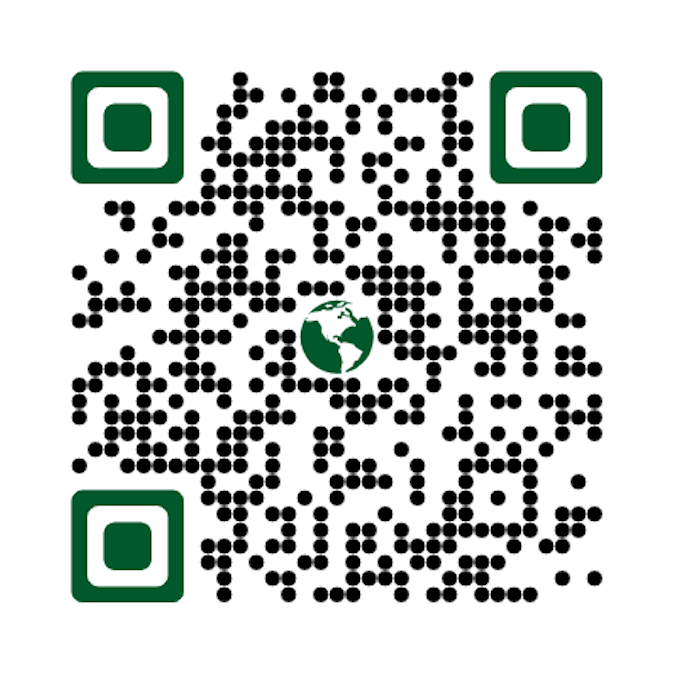 ""