You're probably an avid traveler or into the travel industry such as airlines and railways. And you want to ensure the safety of luggage during transit. After all it contains all the essentials of a traveler.
And the luggage getting misplaced is quite inconvenient for the travelers. This, in turn, harms the travel service provider's trustworthiness.
This is where luggage tags come in handy. They allow you to add the owner's details which increases the likelihood of luggage reaching back to its owner even if it gets misplaced.
But here's the problem with traditional luggage tags:
First, they allow you to add only limited information due to space constraints. So it becomes a challenge for you to think about which contact details to add and which ones to skip.
Second, the tags are prone to getting damaged or dirty during transit. That means, even if someone finds the luggage, she might not be able to contact the owner.
So, wondering what to do? Well, there's a one-stop solution to address both the challenges in no time—QR Codes.
For the uninitiated, QR Codes are 2D barcodes that are easy to scan. And can store a lot more information than traditional barcodes.
As another advantage, QR Codes are easily scannable with a smartphone. End-users simply need to open their phone's camera application and point it in front of the QR Code. A notification will pop up indicating that the QR Code has been scanned. In case it doesn't, she can install a third-party QR Code scanning apps from the App Store or the Play Store to do the job.
Keep reading to know more about how QR Codes are used on luggage tags.
A. Who must use QR Codes on Luggage Tags
There are 2 chief stakeholders here:
1. Travelers
Luggage is the most important to the traveler to whom it belongs. From clothes to business documents, the luggage has it all.
Hence, as a passenger, you'd like to ensure the maximum safety of your luggage. So it makes sense for you to take a step towards luggage security on your own.
Here's what you can do—create a QR Code with your contact details and add it to the luggage tag.
Even if it gets misplaced or lost, the one who finds it can scan the QR Code to see your contact details. She can then contact you and you can easily get your luggage back.
2. Travel service
In a world full of rivalry, ensuring great customer service is the key to sustaining business success. So you always lookout for new ways or technologies to make your services better.
And luggage protection is one of the most important ways to achieve just that.
Here's what you can do—add a QR Code to the luggage tags you issue. You can encode, add the owner's details, and even the traveling route to it. Responsible personnel can easily scan it to fetch the encoded details.
In addition, QR Codes are known for their damage-resistant property. That means they'd scan well even after being up to 30% damaged or dirty amidst transit.
You can keep track of pieces of luggage and make sure they reach the destination along with the owner. You can even use the QR Code as a part of your promotional campaigns. How? By allowing the travelers to scan them and get a discount the next time they decide on traveling with you.
QR Codes offer various benefits while helping you get back your luggage. Here are some of them:
a. Higher storage capacity
As already discussed, QR Codes have a higher storage capacity than traditional barcodes. They can store up to 7089 characters including special characters. This paves the way for them to store more information than barcodes. For example, contact details, website URL, text, and even Google Maps location.
b. Damage resistance
QR Codes offer a unique feature called error correction. It ensures that your QR Code can scan well even after it gets damaged, distorted, or dirty up to 30%. This is really useful in the case of traveling where luggage faces these kinds of issues every day.
c. Editable content
Say you have created a QR Code containing all your contact details. After some time, you have decided to change your phone number. And want to update this information. But you don't need to create a whole new QR Code for it. But note that this is possible only with dynamic QR Codes.
d. Personalized design
This feature is especially useful if you want to increase brand awareness. You can design your QR Code by adding a logo and your brand colors to the QR Code. or you can even add a background image to it.
e. Easy to set-up
QR Code creation doesn't require any special skills. You just need to head on to a QR Code generator to do the job.
B. Examples of companies using QR Codes on Luggage Tags
1. Ebags
A luggage and travel goods e-tailer named eBags has taken upon itself to change the paradigm of luggage bags' security.
"Whether you're traveling for business or pleasure, lost luggage can ruin a trip," says Mike Edwards, CEO of eBags.
The company says that they have always been creating connections. They are doing it between people and places, or between people and their travel items. Hence, leveraging technology to do the job is only natural for them.
Thus, they introduced QR Codes on luggage tags. Customers just need to download the eBags app. It is available on both Apple App Store and Google Play Store.
In the app, the users need to add the following details:
Name their bag
Enter their contact information
Personal details to be displayed
Once done, it will link the bag with the tag via QR Code.
Say, due to unforeseen reasons, luggage gets lost. Here, the customer will just have to open the app, mark it as lost, and confirm or update their contact information. When somebody finds the luggage, all he has to do is scan the QR code to get in touch using the eBags app.
2. Seal and Go
Seal and Go has used Seal & Trace codes on the baggage item. Whoever finds the bag can scan the QR Code and follow the instructions as the process continues.
Once she completes the all set of instructions, the website sends an alert to the owner's email. The owner can then make arrangements to pick up the lost baggage.
3. Tag selling organizations
Companies such as Rockettags and Airportag, are leveraging QR Code luggage tags too. These tags are helping them streamline the traveling experience for customers.
Now you know how a QR Code can be used on luggage tags and examples of companies utilizing it to its full potential. The next question is—how to create one?
1. For travelers
If you are a traveler, you can head on to a QR Code generator and get started. To make the process easier for you, here's a comparison chart of the top QR Code generators available online. You can select the one that suits you the best.
Using Scanova for a demo, here's a detailed guide on how you can create a QR Code in minutes.
2. For travel services
Since you'd need to create QR Codes for a whole bunch of your customers, it won't be feasible for you to create QR Codes one by one. Hence, you'd need a QR Code generator that allows you to create QR Codes in bulk. A simple Google search will fetch you many results to choose from.
Using QR Batch here to demonstrate how to generate QR Codes in bulk:
1. Create a spreadsheet containing all the information to be added to the tags in CSV, XLS, or XLSX format

Note that the first column should be 'Filename'. And the second column onwards, the information would vary depending on the type of QR Codes you create. Here's a detailed guide on how to create a spreadsheet.
2. Go to QR Batch and sign-up
3. Now, select the QR batch type—Generate QR Code Images or Generate QR Code Labels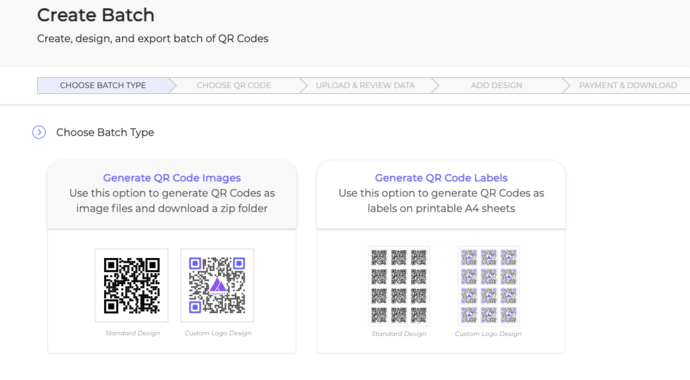 Generate QR Code Images option allows you to download your QR Codes as images. On the other hand, Generate QR Code Labels allows you to generate QR Codes as labels on printable A4 sheets
4. Now, depending on what content you want your end-users to see, select the QR Code category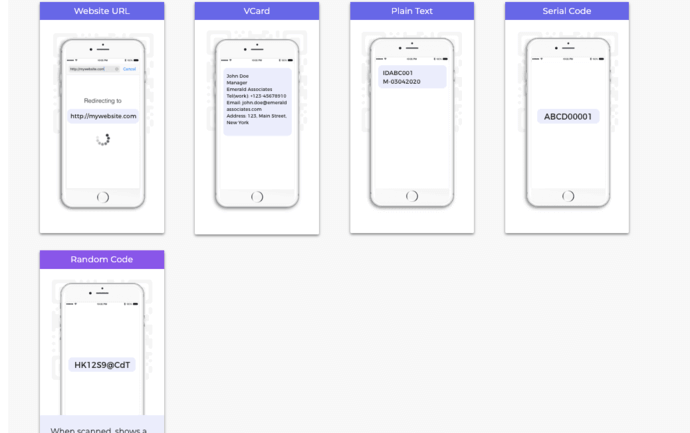 For example, if you want to encode contact information, you'd have to select VCard QR Code
5. On the page that loads, upload the spreadsheet and click Review Data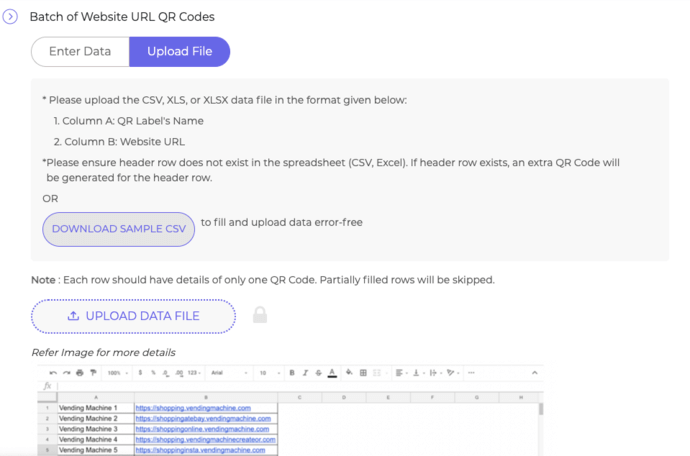 6. Now, match the columns from the drop-down menu with those in the spreadsheet and click Confirm
7. Once you've reviewed the data, click Next
8. Now, you'll see three design options to choose from—Standard Design, Custom Logo Design, and Custom Background Design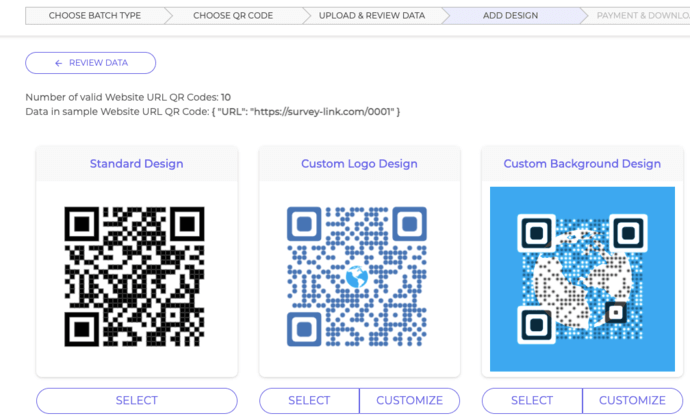 Standard design: It is the generic black-and-white QR Code.
Custom Logo Design: It allows you to add a logo and color to your QR Codes.
Custom Background Design: It helps you place your QR Code on an image
9. After finalizing the design, click Select
10. A window will open prompting you to name the QR Code Batch and specify the export options. For example, if you have selected Generate QR Code Images as batch type, then you will see the following options—PNG, JPG, SVG, EPS, and PDF. On the other hand, if you had selected Generate QR Code labels option, you'd see the options to name the batch, and choose the label sheet layout
11. After you specify the details, proceed ahead
12. On the page that loads, click Proceed To Payment. Once you complete it, your batch of QR Codes will start getting processed
13. Once processed, you'll receive an email attached with a zip file containing the QR Codes
Alternatively, you'll also be able to download the batch from the My Batches section on your account dashboard.
Now you know why it makes sense to use a QR Code on luggage tags. So don't wait up and get a head start by creating your very own QR Code to offer a secure hassle-free experience.