You want to conduct a survey. This could be for:
An academic project
A professional research assignment
Getting feedback from your customers
First, you create a questionnaire. To do it, you will probably use an online tool such as Google Forms or SurveyMonkey. Next, you spread the survey link to people in your network via email or social network.
But say you are conducting the survey for a commercial research project. And your target audience is not online. This is usually the case when you need to acquire respondents on the spot. Then you know that the only option is in-person surveys using paper forms.
The surveyor hands out printed copies of the survey and asks people to fill it. Or the surveyor conducts an interview but also has to fill the form.
In-person surveys require a lot of travel and carrying all these forms can be tedious.
Plus, printing these forms involves cost and a lot of paper consumption.
Plus, to generate meaningful data, you need to digitize the responses by manual data entry. Not only is this labor-intensive but also time-consuming. Plus this translation is prone to errors.
What if I tell you that there is a way to make in-person surveys 'online'. And without the need to print pages of questionnaire. Not only is this method pocket-friendly but also environment-friendly.
Here you can use 'QR Code cards'. They are much easier and affordable. In the upcoming sections, we'll show how you can use QR Code cards as a survey tool.
Keep reading.
A. What are QR Code cards?
For the uninitiated, QR Codes are 2D barcodes that can store web page URLs. You can scan them using a smartphone. They help you easily access the encoded content such as the survey form.
A QR Code Card is small in size (say A6 or the size of a greeting card). The card can have a brief description of the survey and the QR Code.
Instead of paper forms, you can hand out these cards to eligible respondents. With a simple scan using their smartphones, they can fill out the online version of the survey.
Designing and printing the cards should be easy. The real question—how to create the QR Code/s?
Now this will depend on whether you need:
A single QR Code printed on all card
A unique QR Code on each card
The next section will help you choose the right survey method as per your requirements.
B. Types of surveys based on tracking requirements
There are two main types of surveys based on tracking requirements:
a. Survey that requires acquisition of respondents
Say you have to take a survey and you need at least 1,000 responses (sample size). In your survey, you have a screener that helps you qualify respondents. It is important for respondents to qualify for the survey. But their own identity is not important e.g., name and email.
Also, it is important to get as many responses as possible. So, your survey team goes to many locations and attempts to acquire many people.
If this is the case, then you need a single survey link. All respondents can use the same survey link. This means that you need a single QR Code that will be linked to the survey.
To create such a QR Code, you need an online QR Code generator. Here you have the option to create both a Static or Dynamic QR Code.
Dynamic QR Codes will allow you to update the survey link anytime. You can also track their scanning activity. For example—the number of scans by date, city, country, devices, and exact GPS location. Note that Dynamic QR Codes are a premium offering. This means an ongoing subscription is required with the QR Code generator tool. But usually these are not very expensive i.e. USD 10-15 per month.
On the other hand, Static QR Codes have almost no added functionality. They are non-editable and non-trackable. However, they can be generated one-by-one using most free QR Code generators online.
See this guide on how to create a single QR Code for survey links.
b. Survey for a ready list of respondents
Say you already have a list of eligible respondents with their information. This includes names, postal addresses, and other details. You need to survey these respondents but you need to track:
Which participants have responded
The responses tagged to each responded
If this is the case, then the survey tools give you an option called 'Personal Links' or 'Individual Links'. You need to upload the respondent data file and the tool will give you a unique link for each respondent.
This means if you have a list of 100 respondents, you will get 100 unique links. If you are planning on sending QR Code cards (by postal mail) to each respondent, you will need to create a 100 unique QR Codes.
Now it is impractical to create these QR Codes one-by-one using the previous method (in Step B-a). Also, you don't need scan tracking as the tracking is being done by the survey tool (via unique links).
So what you need are Static QR Codes and a bulk QR Code generator.
How to create offline surveys using QR Codes in bulk for unique QR Code cards
For demo, we will use the online bulk QR Code generator—QR Batch.
Here is how you can conduct offline surveys using QR Codes in bulk:
1. Create a data spreadsheet (via Google Sheets or MS-Excel) for the generation of QR Codes as follows:
First column should be 'Filename'. This will be the name of the QR Code or the respondent here for identification purposes.
Second column should be 'URL'. Here, enter the survey link assigned to each respondent
For further assistance, see this detailed guide of how to create a spreadsheet
2. Once completed, download the spreadsheet in CSV, XLS, or XLSX format
3. Create an account on QR Batch
Choose the batch type
4. Now, you need to select from two QR batch type options—Generate QR Code Images or Generate QR Code Labels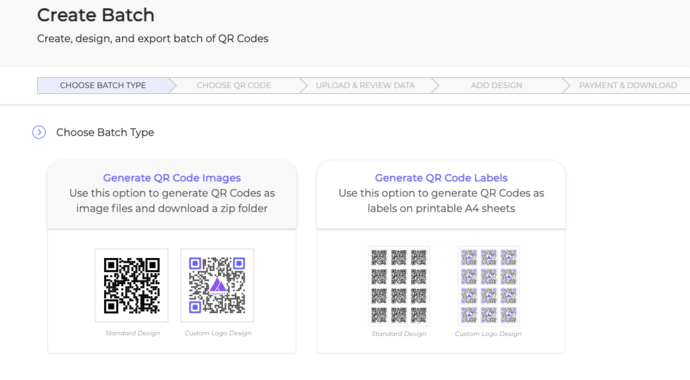 If you select Generate QR Code Images option, you will download your QR Codes as images. On the other hand, if you select Generate QR Code Labels option, you will get QR Codes as labels for A4 sheets.
5. On the page that loads, click on Website URL category. Note that signing up is free of cost. You pay only when you generate the QR Codes
Upload and review the spreadsheet
6. Upload the spreadsheet in the given option
7. Once uploaded, you will then get an option to review the data extracted by the tool. In the column that has 'Filename', choose 'filename' from the dropdown menu. In the column that has the survey links, choose 'URL' from the dropdown menu. Skip any other columns, if applicable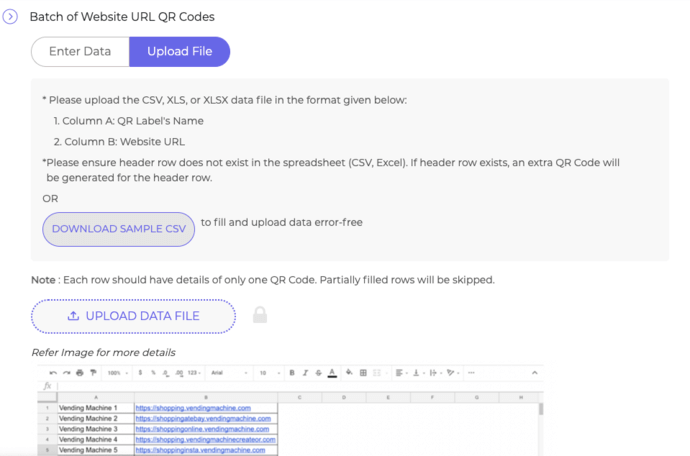 Customize the QR Codes
8. You can customize the design of the QR Code. You can add your company's logo and colors to make your QR Code visually-appealing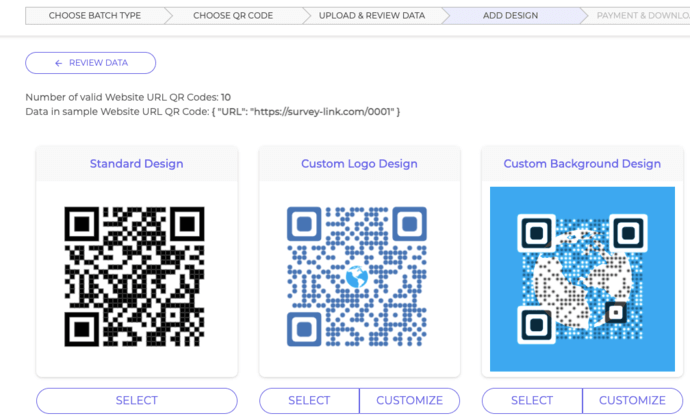 9. Once you have selected the design, you will get the option to customize how you want the QR Codes. You have the option to export the QR Codes:
For example, in the beginning, you had selected Generate QR Code Images as batch, then you'll see the following options—PNG, JPG, SVG, EPS, and PDF. On the other hand, if you had selected Generate QR Code labels option, you'll see the option to name the batch and choose the label sheet layout.
10. Now review all specifications and price. If all looks good, proceed to make payment.
11. Once payment is made, you QR Code batch will start processing. The batch should be ready for download in a few minutes or a couple of hours, depending on the size of the batch. When ready, proceed to download the batch
To know the in depth process of creating QR Codes in bulk, refer to this detailed guide.
C. Best Practices for QR Code Cards
If you are planning to conduct offline surveys using QR Codes, here are some best practices to follow:
Survey Details:

A QR Code card is a replacement for a paper questionnaire.

While the questionnaire will be encoded, you need to ensure that all other information is on the card. These include company logo, survey title, description, trust assurances, and incentives (if applicable)

QR Code: Ensure that the QR Code is of ideal size and clearly visible. The larger the size the better. This will ensure that the QR Code will easily be scannable by all devices
Call-to-action (CTA): Add a clear call-to-action text above or below the QR Code. For example "Scan to Fill Survey" or "Scan to Participate". This ensures that respondents know that the QR Code is the point-of-engagement
Guidance: For in-person surveys, provide adequate training to surveyors. They should be able to guide respondents on how to scan the QR Code and submit surveys
Using QR Code cards for surveys, you will be able to:
Save printing costs
Make the process environment-friendly (by using less paper)
Instantly digitize the survey without the need for manual data entry
With these benefits, there is no doubt that you should be using QR Codes for your offline surveys.
So create offline surveys using QR Codes in bulk now before your next survey forms go out for printing.
Create QR Codes for offline surveys in bulk
Create visually appealing static QR Codes to make offline surveys easy.