You know what QR Codes are and you've even probably scanned one. They are quite famous and all-around after all!
Today, they are being widely used across every industry out there. From logistics, marketing, and consulting to textiles, QR Codes have made a presence everywhere.
And you're probably wondering if you can use QR Codes on clothes. Well, you definitely can. In fact, the clothing industry is already using them for many use cases. The most common among them is giving apparel information via its label using a QR Code.
In this article, we will discuss how you can create QR Codes for clothes and the exact steps to create them. Keep reading to learn more about it.
A. Use cases of QR Codes on clothes
Here are some ways you can use QR Codes on clothes:
1. Give apparel details
You might have seen QR Codes on the labels of apparel. And you might even have scanned them. These QR Codes are often used to relay information that is difficult to add in the limited printing space on the label.
For example, the size, fabric used, manufacturing details, color code, best practices, etc.
Since a QR Code can hold up to 7,089 characters, it gets easier to add the details to it. Plus it occupies only a little space on the label. No need to worry about packing all the information on the labels anymore.
In addition, it's easy for customers to scan QR Codes to access all these details too. They only need a smartphone to do the job. And it's well-known that a QR Code comes alive within a second or two of holding the phone with the camera open in front of them.
2. Help people verify the product's authenticity
Duplicated copies of clothes are a pain for any brand. But many of them have now started using QR Codes to help customers verify if the apparel is original or not.
Many brands add a QR Code to their apparel. When scanned, it takes the customers to the brand's website helping people verify the product's authenticity. No need to worry about your brand image being tarnished due to fake copies out there!
3. Increase your customer base and keep them coming back
Every business wants to acquire new customers while retaining the existing ones. And to do that, they run various campaigns and promotions.
QR Codes are a famous tool for running promotional campaigns. You can use them for a lot of marketing-related use-cases. For example,
The use cases can be endless. But QR Codes are always up for the job.
Now, if you need to create QR Codes, you'd need them in bulk. That's because you'd have many pieces of clothing to put the QR Codes on. And for that, you'd need bulk generation services. Why?
Because if you need multiple QR Codes, creating them one by one will be a tedious task. And that's exactly what bulk QR Code generators are for. They do not only save you time and effort but money too. Let's see how to create QR Codes in bulk:
B. How to create QR Codes in bulk
1. Find a bulk QR Code generator
You will first have to find a suitable bulk generation service for QR Codes.
A quick search engine query will show you many results. But opening each one of them to compare them will take quite a lot of time and effort.
To save you from the hassle, here's a comparison chart that compares the top players online. You can go through it to make a sound decision.
In this article, we'll be using QR Batch for a demo:
2. Detailed steps to create QR Codes in bulk
First, visit the QR Batch website and do a quick sign-up. While doing so, your credit card details will not be asked for.
After signing up, you will see your dashboard. Now click on Create Batch.
You can then select if you'd want the QR Codes to be generated as images or printable labels.
You can go ahead to select whichever option makes the most sense for your use case. Once done, follow these steps:
a. Choose a relevant QR Code category
You will see the following QR Code categories to choose from:
Website URL
Plain Text
Serial Code
Vcard (Virtual Business Card)
Random Code
Select whichever is the most suited as per your use case.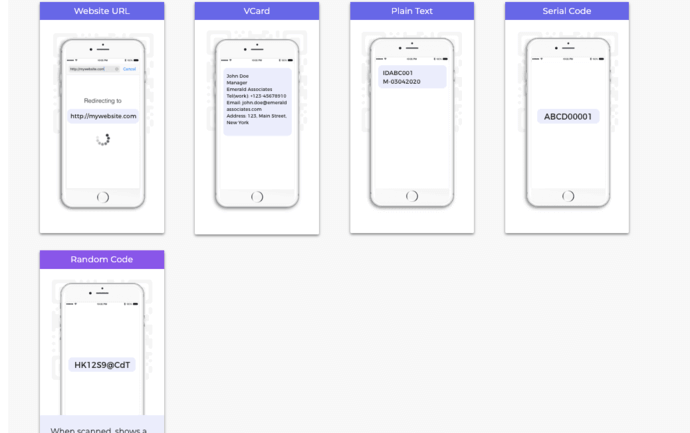 b. Create and upload a spreadsheet
Open a spreadsheet. The first column should have Filenames for the QR Codes. Note that when your QR Codes get created, they will have these names.
The second column onwards will be the data to be added to the QR Codes. For example, in case of Website URL QR Codes, the second column will have web links. But for Text QR Code, it will have text to be added in each QR Code.
After you've created the spreadsheet, download it in CSV, XLS, or XLSX format.
Once done, you can go back to where you left on QR Batch. Here, click on the Upload File button. Next, you can click Upload Data File and upload your spreadsheet and proceed ahead.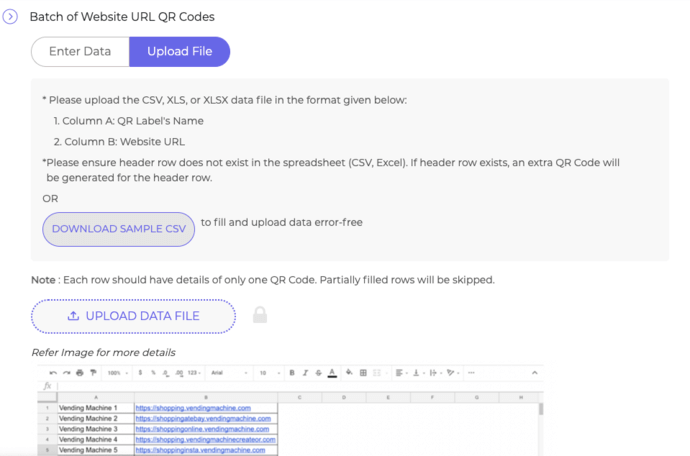 After doing it, you will see the Review Data button. Click on it to go to the next step.
You will be able to match the columns in the spreadsheet with the ones in the dropdown menu. Once done, click Confirm.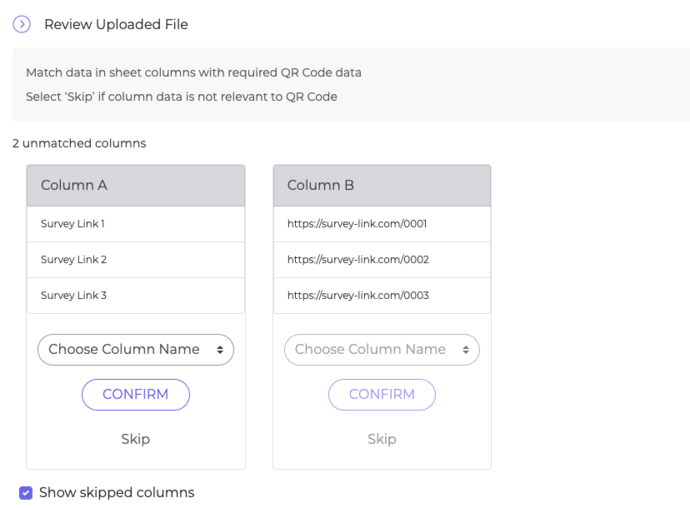 Once you match all the columns, click on Next.
c. Add design to your QR Codes
In the next step, you can add design to your QR Codes. You will see the following three options here:
Standard design
Custom Logo Design
Custom Background Design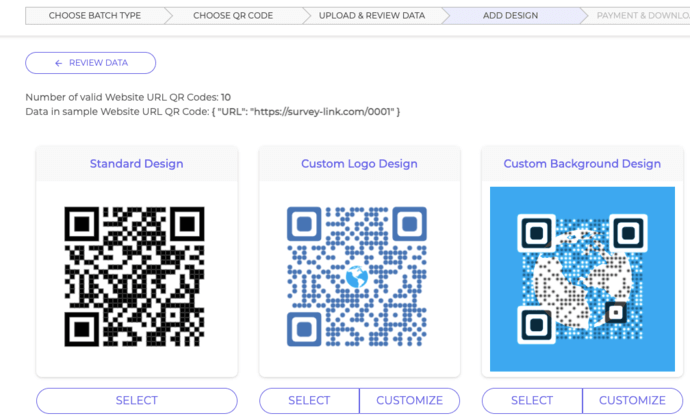 If you want to customize a design option, click on Customize. If you want to select a design option the way it is being displayed, click Select.
After you're done, proceed ahead.
d. Batch name and export details
Now, you will see a window asking you to add a name for your batch of QR Codes. In this window, you will also have to select a few more details depending on whether you chose:
Download QR Codes as images: If you selected this in the beginning, you will have to add the format of QR Code images.
If you want to use the QR Codes on print media, you should go for vector formats such as SVG. They don't pixelate when resized and, hence, are suitable for print purposes.
Download QR Codes as labels: If you chose this, you will have to select the layout of the label sheet. You can select whichever you deem fit from the dropdown menu.
Once you select the layout, you will see details such as:
QR Code size
Margin
Compatibility
Labels per sheet
Shape
Once you finalize everything, click Next.
e. Make payment and download the batch
A preview of the QR Code with other options will appear on the screen. You will also see the total price of the batch. If everything seems fine, you can proceed to make payment.
Note that the price per QR Code will be lower for batches with a high number of QR Codes. To know more, you can visit the pricing page.
After making the payment, the batch will start progressing. You can monitor the progress from the My Batch section. After the batch gets generated, you can download it. In addition, you will also be notified via email once the batch is ready.
Now you know everything about how QR Codes can be used on clothes and how to create them. The next step? Get started here: