Elections are the way through which citizens of a country can choose how to make the governing system better. And hence, it is very important for the elections to be as fair as possible.
But there are some challenges too. Standing in long queues can pose an inconvenience for the voters. Hence, sometimes a couple of voters don't turn up.
Besides, it is important that only genuine voters cast their votes. Many a time, the authenticity of the voter breaches. This is because most of the time, people carry duplicate/fake identity cards with them.
Hence, it's time to make the election process better, simpler, and fairer. And one of the solutions is to use QR Code technology.
QR Codes are 2D barcodes that are easily scannable via a smartphone.
The best part is that it is already being used in election systems across the globe.
Keep reading.
A. Use Cases of QR Codes in elections
QR Codes today are used for diverse purposes in elections. Here, we will talk about three areas where they are used: voter slips, e-voting, and ballot systems.
1. Voter slip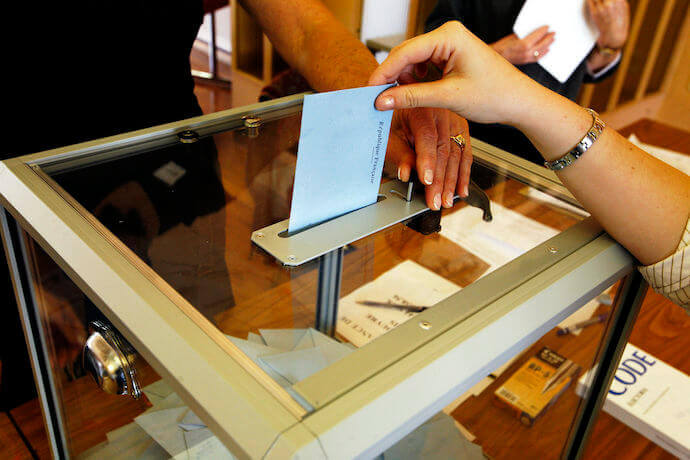 A QR Code on a voter slip helps in the quick identification of the voter. When scanned, the officials can easily check whether the voter is authentic or not. Plus, this will ensure a quick way of marking the attendance of the voters.
For example, Delhi Assembly Elections, India held on 8 February 2020, used QR Codes. And then, Delhi became the first state/union territory in the country to provide a QR code on the voter slip. The aim behind this was to speed up their identification process.
All the voters were issued digital voter slips containing a QR Code. The QR Code is linked to the voter's contact details.
"This latest technological innovation will make the poll process fast through use of QR (Quick Response) Code reading for voter slips of electors,"
—Sunil Arora, Chief Election Commission, India
Besides, if the voter forgot to bring their voter slip, they could simply download the QR Code from Voter Helpline App. Once their QR Code is scanned at the polling booth, they can easily cast their vote.
Similarly, QR Code-based voting slips were also used in Hamirpur, a city in Uttar Pradesh, India. These slips could be scanned even without the internet. Thus, it made the whole election process user-friendly.
Upon scanning, the voters got details about their booths. These included information on the number of people in the queue and the progress of votes cast.
So with QR Codes enabled slips, the whole voting process becomes much faster and more authentic.
2. E-voting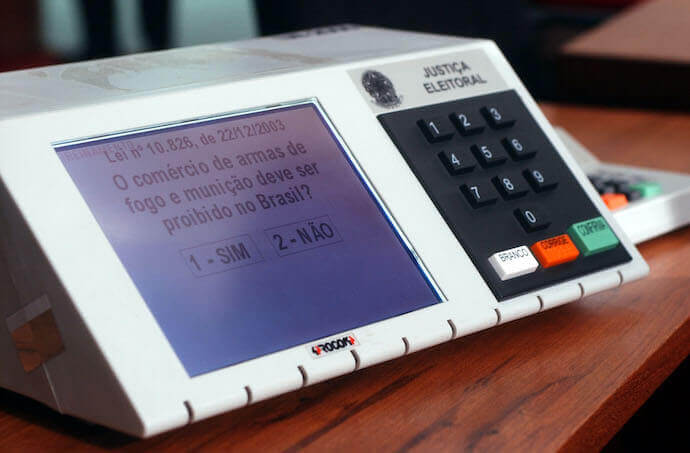 With e-voting, voters can cast their votes from the place of their choice. And with QR Codes, you can make e-voting more secure. Here's how.
The e-voting authentication process with QR Codes is based on visual cryptography. Here, every voter gets an e-voting password which is encoded in the QR Code. The voter just needs a smartphone to scan the QR Code and unlock their password.
Then they can then enter this password into the voting platform. Once authenticated, the voter can cast the vote.
For your reference, here is a detailed guide on how to create secure passwords for QR Code e-voting.
QR Code enabled e-voting system has the following benefits:
The voter does not need to know any background information. It could be about QR Codes or visual cryptography.

They just need to know how to scan the QR Code using a QR Code scanning application
The method aims to gain a high security level as the voters cast their vote remotely
A lot of time is saved as it takes just a few seconds to scan the QR Code and get the password
For example, Estonia enabled QR Code based i-voting (internet voting) system. Once the voter casts their vote online, a QR Code is generated. They can then scan this QR Code using their smartphone. The QR Code enables their device to communicate to the state election servers. This shows how the voter has voted without compromising the privacy of the vote cast.
3. Ballot systems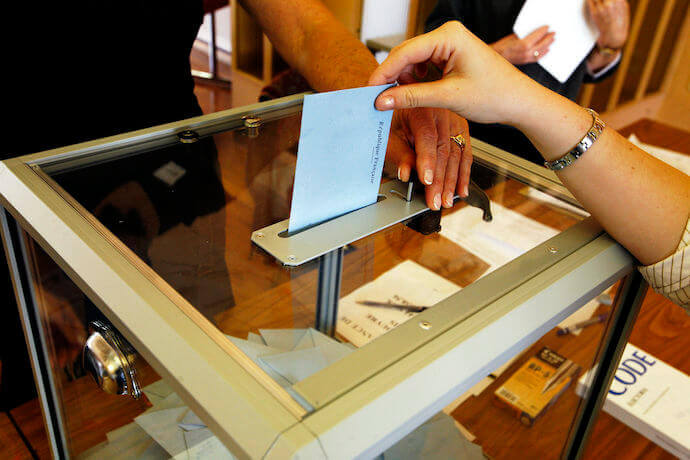 Many countries are now adopting QR Code based ballot systems for security reasons. See how:
Bibb County, United States introduced QR Code based ballot machines in February 2020. The voters needed to insert an activation card and select their ballot. After voting, the voters could print out their ballot.
The printed copy had a QR Code. Upon scanning, it showed whom you voted for.
"I'm sure it's going to be more advanced, more accurate, which is super-important considering everything that happened before."
—Thomas Gillion, the elections officer, Bibb County Board of Elections
In addition, Hart InterCivic Inc., one of the largest voting machine makers in the U.S, has collaborated with Microsoft. They have integrated Microsoft's vote-tracking system. It will help ensure extra security, which, in turn, will boost the legitimacy of U.S. election results.
Here, voters would fill out their ballots the same way—either using a touchscreen or by hand-marking a ballot. After submitting, voters will receive a piece of paper with a verification or QR Code. When scanned, this will redirect them to the local election jurisdiction's website. Here, they can track their ballot through the tabulation process.
Similarly, Chicago, United States also used QR Codes in its ballot system. It was to make the voting process comfortable for the voters.
The county introduced touch screen ballot machines. Upon casting the vote, the voters got a QR Code, which contained the summary of their ballot. Besides, it showed a written list of candidates they chose.
"I thought it was a little bit more user-friendly," I felt more comfortable with it, and I felt like it was easier to use and more pragmatic."
—Rudy Altergott, a voter in Chicago
Plus, you can place QR Codes in every polling station. These QR Codes can link to the important guidelines. These may include the documents needed at the polling booth. For this, you can link the QR Code to be a mobile landing page with the information.
4.Voters
It is very important for all eligible citizens to register as voters. And QR Codes can help you do it easily. Just place the QR Code on print creatives. And citizens can scan it to register themselves online as voters.
In fact, the State of California has already incorporated QR Codes to allow its residents to register as voters. When scanned, QR Codes redirect them to the California Online Voter Registration website. Here, they can register themselves.
5. Campaign branding
It's pretty common for election campaigns to start ahead of actual elections.
Once a political party announces a candidate, the election campaigns are started. It could be social media promotions, regional tours, etc.
Here, QR Codes can help you reinforce your branding effort. Here's how:
QR Codes can be added to print creatives such as flyers, sidewalks, and banners. Here, they can help you share campaign videos, documents, or even share your campaigns' location.
In addition to this, you can also get contactless registration or share your contact information with potential voters.
Thus, you can engage with the entire voter's group safely while abiding by all the social distancing norms. Moreover, these tech-savvy campaigns do attract a lot of attention from young voters. It may also come in handy to communicate your mission to them.
b. Provide detailed information about your party or candidature
As there is limited printing space for print media creatives, it's impossible to share all the important details you may want. But QR Codes can help you take care of this problem.
You can create a Text QR Code with the required information. And then, add it to your promotional material. And interested voters would be able to access all the information about the candidate.
6. Campaign donations
QR Codes can be used to raise funds for the cause you're working towards.
They smoothen the entire donation process by offering contactless QR Code payments. Interested people can scan it to visit your website or a payments app.
7. Drive voter registrations
Voters registering themselves is the first step to the whole process of elections. And QR Codes can offer an easy way to help them register. Here's how:
Fetch the registration link and add tracking parameters based on location to it. For example, let's say the form link is https://registerhere.com
Now, since you want people to register, you'll share it with them. But after you do it, you'd like to track if people are even using it or not. Further you may want to understand which region or locality is getting good registrations and which is lagging behind.
In that case, you can simply add UTM parameters to the link using Campaign URL Builder by Google. Here's how your link may look like: https://registerhere.com?utm_source=north-region (for north region). You can customize it as per your needs.
You'll then be able to monitor the data on link visits via Google Analytics.
Next, you can then take all the registration links and create QR Codes against them. Then put the QR Codes in the regions they have been created for (as per the link).
People will then be able to scan the QR Code and register right away. No need for them to type any web link. That's simple!
So, these were some ways QR Codes can be used in elections. Let's now move on to the next section:
B. Why use QR Codes in elections
QR Codes simplify the election process and maximize voter headcount. As read, developed nations across the world are now using QR Codes. Here are the reasons why:
1. Encourage electoral participation
QR Codes make it smooth, easy, and convenient for voters to cast their vote. And as the process becomes faster and more advanced, it leads to a hike in voter turnout.
2. Save time and energy
QR codes make it far easier to access ballots. They eliminate the issue of lost usernames and passwords. In this way, you can cut down on help desk inquiries. This would ultimately save time and energy for both your team and the public.
That's because QR Codes are scannable from any direction. One can do it using any camera-enabled smartphone.
3. Promote security
Secure voting is a priority in elections. With data encoded in QR Codes, the sensitive information of a voter is safeguarded. This way, voters know that their personal information is protected. This includes the information about whom they have cast their vote.
Now, let's move on to detail how to create QR Codes.
C. How to create QR Codes
In order to create QR Codes, you will need an online professional QR Code generator. Depending upon your use case, there are two ways you can create QR Codes. Here is how:
1. Through API
If you want to integrate QR Code generation into your own information system, you need a professional tool such as Scanova's Static QR Code Generation API. Here, you can create QR Codes in bulk.
You can integrate Scanova's API with your own information system or mobile app. And then generate a QR Code anytime in real-time.
This way you can generate QR Codes programmatically. You just need to send a trigger request with data (QR Code design, format, size, and the data to be saved in it) to Scanova's API. The API will then respond with the QR Code image. For more information, here is a detailed guide on how to create QR Codes via QR Code API.
On the other hand you can use Scanova's SDK and add it to your own server. Here, you can make API calls locally, allowing you to generate custom-designed static QR Codes at a much faster rate.
2. Through bulk generation
If your use case requires you to create QR Codes in bulk, then you should choose a bulk QR Code generator tool. Using QR Batch for demo purposes, here are the steps, which you need to follow:
1. Create a data spreadsheet (via Google Sheets or MS-Excel) by following this format:
The first column should be 'Filename', which is the name of the QR Code
The second column should be 'URL'/ text, depending on the category you choose
For further assistance, see this detailed guide of how to create a spreadsheet.
2. Download the spreadsheet in CSV, XLS, or XLSX format.
3. Create an account on QR Batch
Please note that you can sign up for free. You pay only when you generate QR Codes
4. On the page that loads, you need to choose the QR batch type from the following options—Generate QR Code Images or Generate QR Code Labels
Generate QR Code Images option allows you to download your QR Codes as images.
On the other hand, Generate QR Code Labels option allows you to generate QR Codes as labels on printable A4 sheets.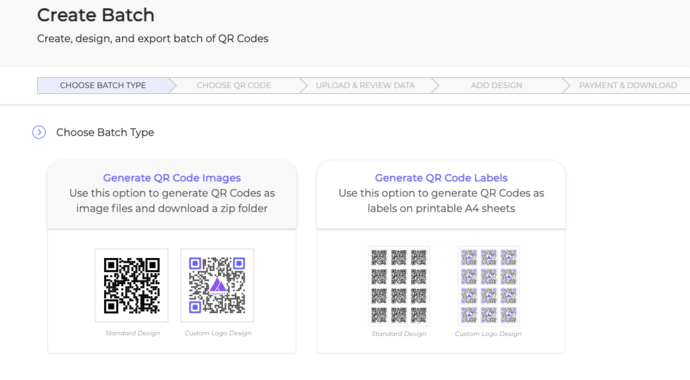 Choose the QR Code category
5. Now, click on the QR Code category that suits your purpose best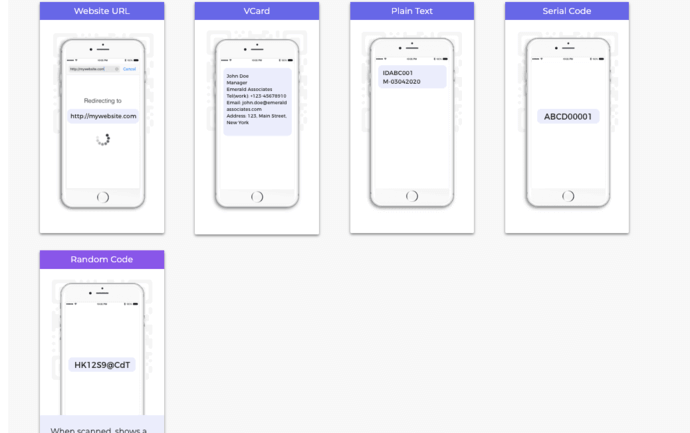 6. Click on Upload File and upload the spreadsheet you created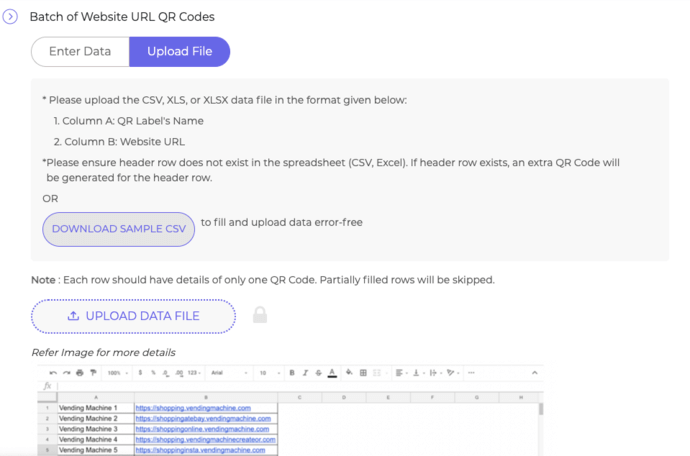 7. Click Review Data and review the data extracted by the tool
8. Match the Filename as per the data you encoded in the spreadsheet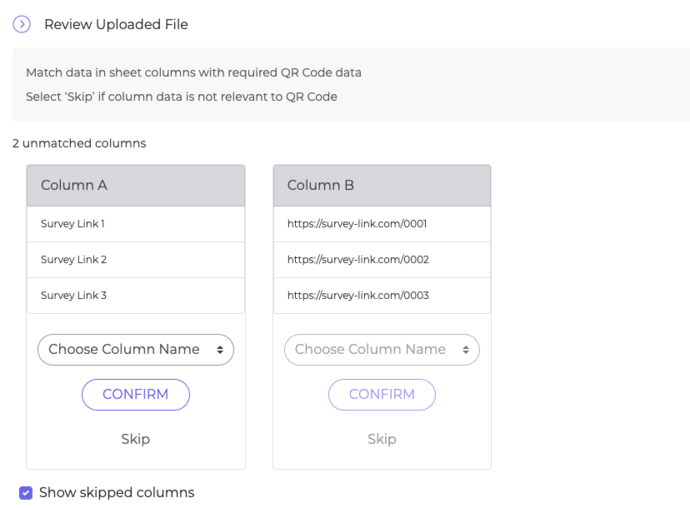 Choose the design
9. Now, you'll see three design options to choose from- Standard design, Custom Logo design, and Custom Background design. Here, you can customize the design of the QR Code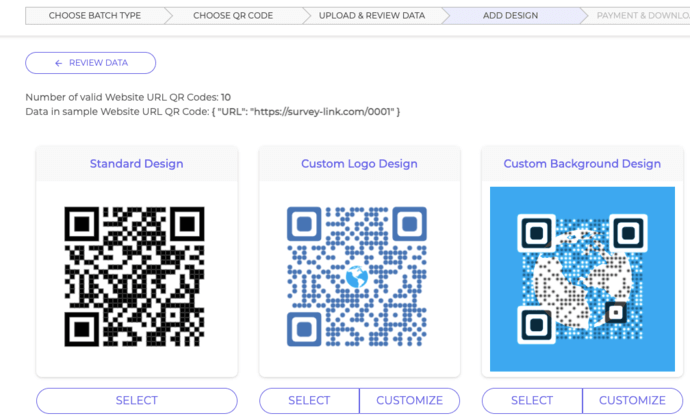 Once you've finalized the design, click Select.
10. A window will pop up, prompting you to select QR Codes' export format (images or labels)
Here, if you had selected Generate QR Code Images as batch type in the beginning, you'll see the following options—PNG, JPG, SVG, EPS, and PDF. On the other hand, if you had selected Generate QR Code labels option, you'll see the options to name the batch, and choose the label sheet layout
11. Once you've decided on the QR Code batch's export format, click Continue
12. Review all specifications and prices. If all looks fine, click on Proceed to Payment
13.Your QR Code batch will start processing. It should be ready for download in a few minutes or a couple of hours, depending on the size
When ready, you will get a notification in your mail. You can then download it from your dashboard.
For more information, you can refer to this detailed guide on how to create QR Codes in bulk.
This is all you need to know about QR Codes in elections. Create QR Codes now to make elections much better, faster, and more secure.
Create QR Codes for Elections
Create visually appealing QR Codes to make election process better.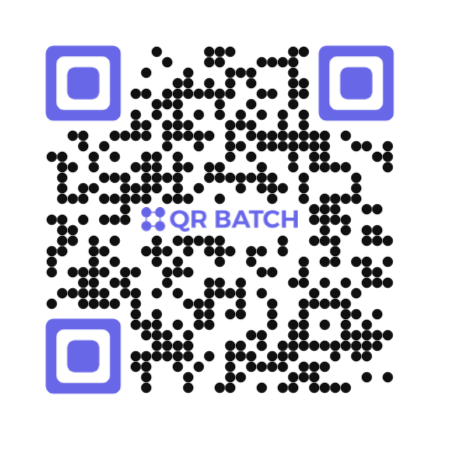 ""