Seedlings are the bedrock to sustain a terrestrial ecosystem. So as part of the nursery sector, it becomes important to grow and nurture quality plants.
Plus, it is equally important to provide all the necessary details about a plant. This will help your customers and visitors take good care of the plant.
But you are currently facing some challenges in both aspects. These are:
1. Challenges faced by nursery workers
It is essential to train the nursery workers well for their work to be 'productive'. But lack of training facilities results in a lack of knowledge in handling seedlings.
And you are looking for a solution, which can provide training to workers handy.
2. Challenges faced by customers
To provide full information to your customers, you generally handover a booklet. This contains all the necessary information regarding the maintenance of the plant/sapling.
But printing booklets incurs a lot of printing costs. Besides, it leads to large consumption of paper.
And not many people really open and read a booklet. This leads to improper care of the plant which affects its quality.
So, you want to provide information in an engaging and sustainable manner. And it needs to be both customer and environment friendly.
With QR Code technology, you can resolve all these challenges. The best part is that nurseries across the world are already using QR Codes.
Keep reading.
A. Why use QR Codes in nurseries
QR Codes are 2D barcodes that are easily scannable via a smartphone. They are already being used in botanical gardens, nature trails, and parks.
This is because there are plenty of reasons for QR Codes to be in fashion.
Firstly, QR Codes can link detailed information. You can link a QR Code to a text, website URL, an image, or a video.
Secondly, QR Codes are damage resistant. That is, they can resist slight damage upto 30%. This is especially useful in a wear-and-tear environment.
Thirdly, QR Codes are readable from any direction. That is, even if you place a QR Code upside down, it will still be scannable.
Fourthly, QR Codes occupy very little space. Hence, they can be easily placed on a small size sapling.
Plus, you can also add design to QR Codes. That is, you can create a completely branded QR Code by adding a background color or an image.
Now you know why you should use QR Codes in nurseries. Now let's move ahead to detail how you can use them.
B. How to use QR Codes in nurseries
Here is how you can use QR Codes in nurseries:
1. Provide necessary details about the plant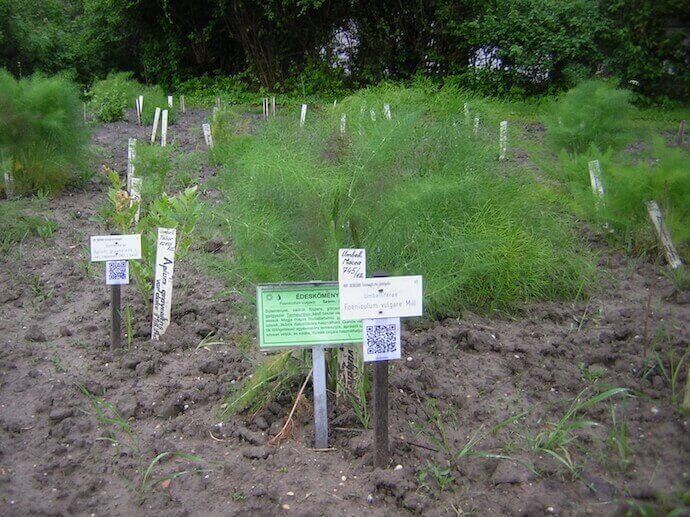 You can link your QR Code to important details about the plant. This may include plant care tips, fertilizers to be used, how and when to prune it, and what ailments is the plant prone to. Additionally, you can provide interesting facts about the plant or parent family.
You can also create an image QR Code and show how a plant looks when it blooms.
You can then print this QR Code on the tag placed on every plant in the nursery.
This way, you can provide full transparency of the plant you are selling to your customer.
2. Manage nursery inventory efficiently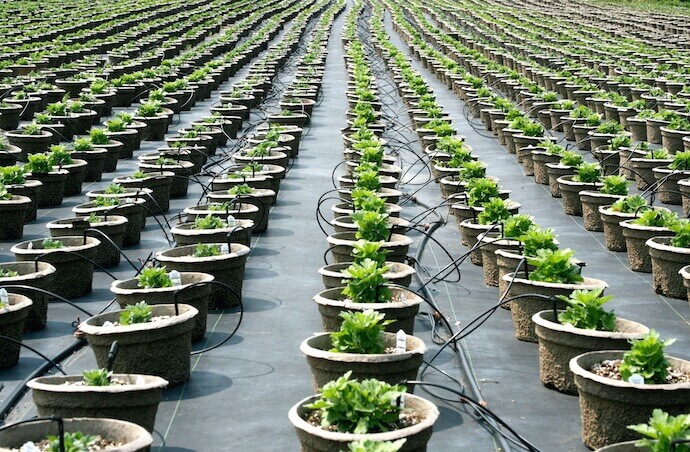 Since, QR Codes offer damage resistance and have multidirectional scannability, they can help you manage and track inventory efficiently. All you need to do is create QR Code labels and place them on the plant materials in the stock.
For more information, you can refer to this detailed guide on QR Codes for inventory management.
3. Provide on-the-spot training videos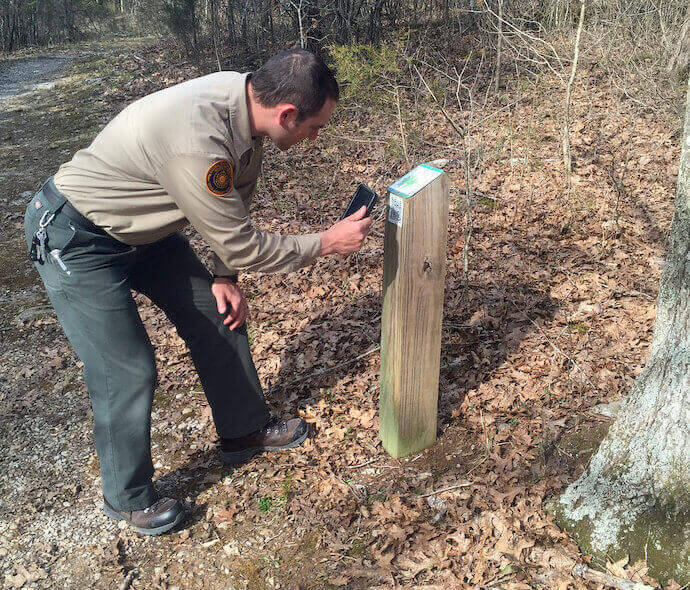 You can link QR Codes to training videos for nursery workers. And place it in different allotted plant spots within a nursery.
When scanned, nursery workers will be able to get instant knowledge about training. For example, how to grow and maintain plants in their nurseries.
Here, QR Codes can act as instant guides. And the issue of lack of knowledge and skill of nursery workers just eliminates.
So, these were some of the ways in which you can use QR Codes in your nursery. Besides, you can use QR Code based payments, which will allow customers to scan the QR Code and make payment.
To know more about how it works, you can refer to this detailed guide on QR Code payments.
Now, let's see how nurseries across the globe are actually using QR Codes.
C. Examples of nurseries using QR Codes
QR Codes are not a new thing in nurseries. They are already being used for diverse purposes by different nurseries. Here are some examples:
1. Worfield Nursery, United Kingdom
In 2015, Worfield nursery based in Shropshire used QR Codes. They did it to enhance the visitor experience. The nursery placed QR Code labels on each plant on its exhibition at the National Plant Show.
Upon scanning, the visitors obtained information on different species and varieties of plants.
This way customers could access far greater information than could be found in a limited catalog or plant tag.
2. ICAR-Central Plantation Crop Research Institute, India
ICAR-CPCRI, Kerala, India distributed QR Code tagged coconut seedlings to farmers. The endeavor was to ensure that farmers get only quality assured seedlings.
Upon scanning, the farmers were redirected to the nursery website. Here, they could get specific information on characteristics of each variety being distributed.
3. Atkiro Ltd, Yorkshire
Atkiro Ltd is a well known grower and nursery in Yorkshire. In 2012, at the Four Oak Trade Show, the nursery used QR Codes to provide plant information.
Now, if you are planning to use QR Codes in your nursery, let's show you how to create them.
D. How to create QR Codes
For most of the use cases discussed above, you will need QR Codes in bulk. And for this, you need an online bulk QR Code generator tool.
In this article, we will use QR Batch for demo purposes. But before you go ahead to create QR Codes, know about different categories.
1. Different QR Code categories
You can choose from following five categories:
Website URL: Upon scanning, the QR Code redirects to the link encoded
Text: In Text QR Code, you can encode text such as facts and brief plant information
VCard: When scanned, QR Code displays contact information, which can be saved as contact
Serial Code: In this category, you can encode an alphanumeric code (such as ABCD1234) in series
Random: You can choose from a set of random characters to be encoded in the QR Code
2. Create QR Codes
For this follow these steps:
1. Create a data spreadsheet (via Google Sheets or MS-Excel) by following this format:
The first column should be 'Filename'. This is the name of the QR Code or the respondent here for identification reasons
The second column should be 'URL'/ text. This depends on the category you choose
For further assistance, you can refer to this detailed guide on how to create a spreadsheet
2. Download the spreadsheet in CSV, XLS, or XLSX format
3. Create an account on QR Batch and via the dashboard. Note that you can sign up for free. You pay only when you generate QR Codes
4. Next, choose a QR Code category and upload the spreadsheet in the given option
5. Once uploaded, review the data extracted by the tool
6. Now match the Filename as per the data you encoded in the spreadsheet
7. You will be landed on a page where you can customize the design of the QR Code. You can add a logo, color, and background image to make your QR Code branded
8. A window will pop up. Here, choose from the following two export options:
9. Finally, review all specifications and price. If everything looks fine, proceed to make payment
10. Your QR Code batch will start processing. This may range from a few minutes to a couple of hours, depending on the size.
Once downloaded, you will be notified via an email containing an attached zip file containing all the QR Codes
This way, you can easily create QR Code in bulk. Now, let's move ahead to show you QR Code best practices.
E. QR Code—Best Practices
Here are some best practices, you should follow to create QR Codes flawlessly:
1. Add design
Customized QR Codes attract 50-200% more scans as compared to black-and-white ones. Hence, if your use case is promotional, you should add design to your QR Code.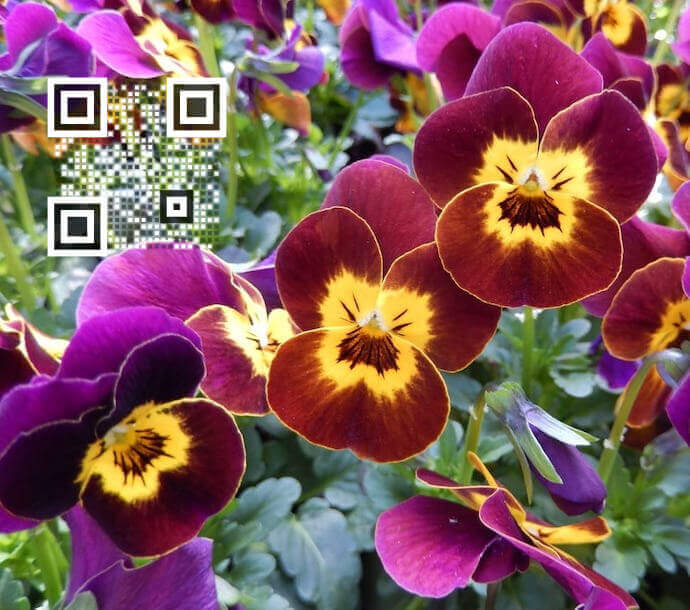 However, there should be enough contrast between the QR Code's background color and data modules. This will ensure it has proper scannability.
2. Create QR Code labels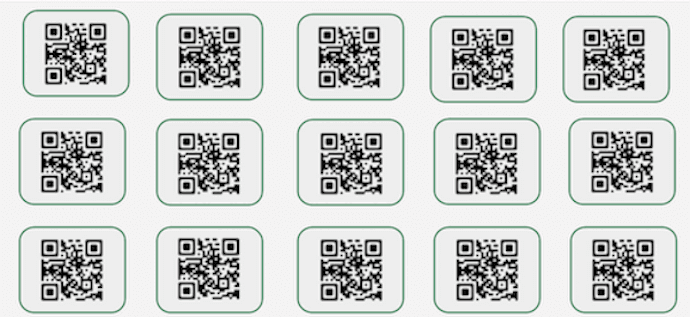 By creating QR Code labels, you can easily peel off and paste a QR Code on a plant. Plus, according to plant/plant material size, you can specify the label layout. And accordingly, choose a suitable Avery sheet.
So, QR Codes for your nursery will definitely prove to be a worthwhile solution. With many nurseries already using it, it's time for you to introduce them in your nursery.
Create QR Codes for Nurseries
Create visually appealing static QR Codes to resolve challenges.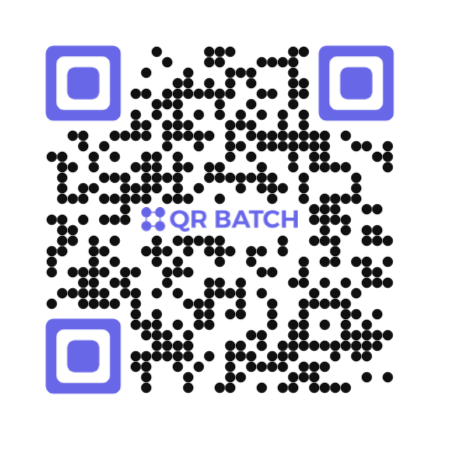 ""