You probably need serial code QR Codes for management and tracking purposes. And this could be for the following use cases:
To manage your product inventory: Here, you need a serial code QR Code for optimum inventory control. QR Codes can help you keep track of all your inventory
For organizing an event: You want to use serial code QR Codes in your event tickets. The purpose is to identify valid, invalid, or duplicate entries to your event
To validate identity cards: This could be for your delegates or employees, or attendees (if organizing an event). You need QR Codes that have unique serial codes encoded. Here serial codes are used to link to the cardholder's details in your own database
On product packaging: You need serial code QR Codes to track authenticity of your product. As in 2009, the United States FDA published draft guidance to use serial numbers on prescription drug packages for the pharmaceutical industry. This measure is intended to undertake quality management of drugs and to help prevent counterfeiting
For other purposes: You may need random serial code QR Codes to run a contest, competition, or a show
But you are finding it difficult to create serial Code QR Codes in bulk. That is, since your use case demands high quantity of QR Codes, it is not feasible for you to create them one-by-one.
Plus say you want customized QR Codes with logo. Customized or branded QR Codes will help your staff identify your QR Codes easily. So, how do you create them?
Or say you want printable QR Code labels so that the need of the feature 'Mail Merge' just eliminates.
And you are looking for a solution to create serial code QR Codes with these practices.
Scroll down to know how to create them.
A. Why use Serial Code QR Codes
As mentioned above, Serial Code QR Codes have various use cases with many benefits. And here are some of them:
1. Easily scannable
You probably know it takes only a camera-enabled smartphone to access a QR Code. (Note that QR Batch only allows you to create static QR Codes which can be scanned without an internet connection too).
And because of this, many industries are adopting QR Codes into their business products.
Here, retailers and manufacturers can scan the product's Serial Code QR Code to identify and process it accordingly.
With its 360-degree scanning orientation, it can help you accelerate inventory management too.
2. Low risk of non-scannability
Unlike barcodes, QR Codes have a lower risk of being rendered unscannable by damage. How? That's because QR Codes have an error-correction feature. It ensures that QR Codes scan well even after getting damaged, distorted, or dirty (common in inventory and product management)
3. Stores more data
QR Codes can hold a lot of information compared to traditional barcodes. Generally, barcodes can only hold upto 20 characters. On the other hand, QR Codes can hold up to 7089 characters.
This large storing capacity can help you store a lot more characters.
B. How to Create Serial Code QR Codes
So now the actual question is— how to create serial code QR Codes. Since you need QR Codes in bulk, you will need a bulk QR Code generator tool.
But not all bulk QR Code generator tools have the customization feature. Also, if you want QR Codes in the form of printable labels, choose the tool that has this feature.
In this article, we will use QR Batch for demo purposes. Here are some simple steps that you need to follow:
1. Specify the data
Go to QR Batch and Sign-in to create QR Codes.
On the page that loads, you'll see two QR batch type options to choose from—Generate QR Code Images or Generate QR Code LabelsIf you select the Generate QR Code Images option, you will download your QR Codes as images. On the other hand, if you select the Generate QR Code Labels option, you will get QR Codes as labels for A4 sheets.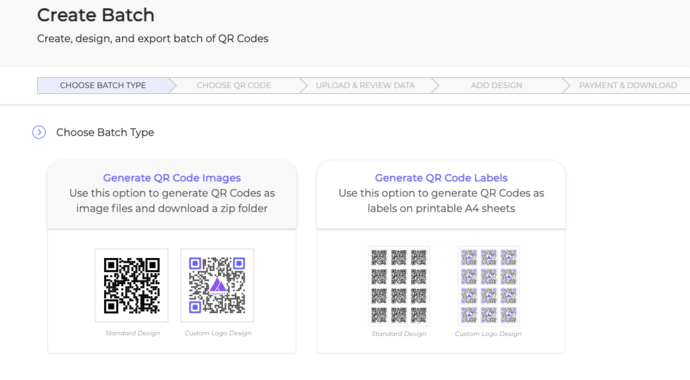 Now choose the Serial Code QR Code category.
You will be landed on a page where you have to specify the following details:
Prefix: This could be any alphanumeric character that comes before the series
Start digit: This is the first value in the series
Level of increment: This is the fixed increase in the series
End digit: This is the last value in the series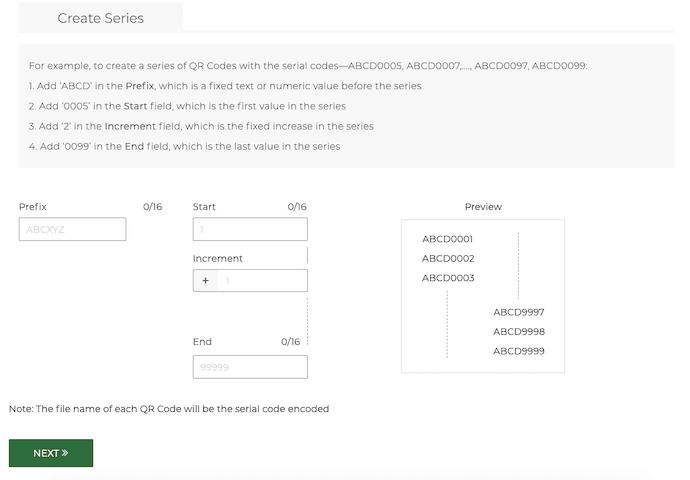 Once you enter all the details, click on Next.
2. Add design to QR Codes
Once you define the columns and proceed further, you'll see three QR Code design options: Standard black-and-white, Custom logo, and Custom background. You can proceed with either of the options.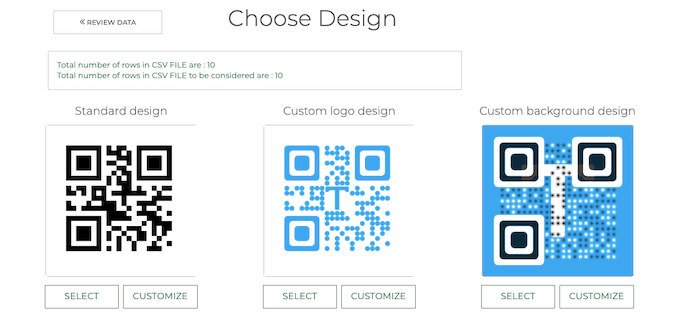 If you want to start from scratch, go for standard black and white QR Codes.
Designing allows you to add logo and your brand colors to the QR Codes. You can also customize the background image by uploading a file that suits your purpose best.
This gives the QR Code a personal touch. And attracts 50-70% more scans as compared to standard black and white QR Codes.
So, if your purpose is marketing or promotional, you should customize your QR Code.
3. Specify Batch name and other details
To proceed further, say after you design your QR Code batch, click on Next.
A pop-up will appear prompting you to specify the batch name and the export options (size and format).If in the beginning, you had selected Generate QR Code Images as batch, then you'll see the following options—PNG, JPG, SVG, EPS, and PDF. On the other hand, if you had selected the Generate QR Code labels option, you'll see the option to name the batch and choose the label sheet layout.
Here is a detailed guide on QR Code labels.
4. Make payment
The major advantage of using QR Batch is that it charges you only for the QR Codes you create. The higher the number, the cheaper the rate.
Also, using QR Batch Price Calculator you can get an estimate of the batch price.
Note that cost per QR Code in a batch will reduce, as your number of QR Codes increases.
5. Download your QR Code Batch/ QR Code label PDF's
Once you make payment, your QR Code Batch will be generated in about a few minutes. If the batch size is large (in thousands), it can take about an hour.
As the batch gets generated, you will be able to download it from Download Batch section. Besides, you will get notification on batch process and batch completion on your dashboard itself. You just need to click on the notification icon floating on screen to know the updates.
Plus, you will also be notified via email as the batch gets ready.
Your QR Code batch/ QR Code labels PDF's will be downloaded in a zip folder. Unzip the folder and scan one of the QR Codes to test the output.
You can now print the QR Codes and use it efficiently for your use case.
This is all you need to know about how to create Serial Code QR Codes.
B. Best practices of customizing your QR Code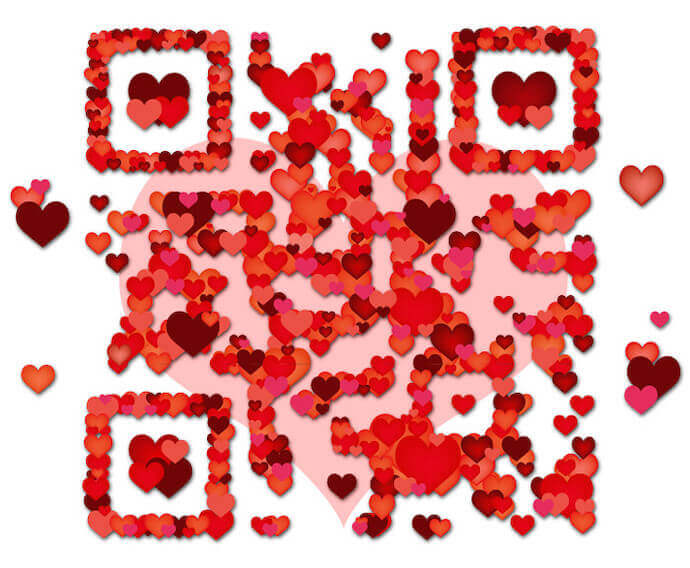 If you are planning to customize your serial code QR Code, there are some things that you need to keep in mind. These are:
1. Ensure enough contrast: If you customize the background color, then make sure that there is enough contrast between the background color and data modules. That is, if the background color is light then keep the color of data modules dark.
This practice will ensure proper scannability of your QR Code.
2. Customize the QR Code design: And to do this, you can add a logo, an image, or any other interesting element in the centre of your QR Code. This way you can imbibe depth in your QR Code. And make it a piece of artwork.
You can also add boxes or texts to your QR Code. By doing this, you will give your QR Code style and a personality.
3. Use QR Codes with Adequate Error Correction: With adequate error correction, you can ensure that all the data is intact. And that the QR Code still holds the capability to be scanned.
Hence, in a customized QR Code, the image is added as an error and the data modules are removed. But adding adequate Error Correction increases the number of modules (data blocks) in a QR Code.
If you use a QR Code with 0% Error Correction, then removing a data block to add an image will render the QR Code non scannable.
Know more about how QR Codes work here.
So, now you know that you can easily generate Serial Code QR Codes in bulk. And that you can make your QR Codes much more beautiful and still perfectly scannable. Plus, you can easily print QR Code labels with your home or office printer, saving the multiple rounds to your printer.
Create serial Code QR Codes now to feasibly manage your inventory or track invalid entries in your event.
Create Serial Code QR Codes
Create visually-appealing QR Codes in bulk for your campaigns