QR Code technology has hit almost every sector. From single use cases such as a feedback form to bulk use cases such as inventory management—QR Codes are being used in all.
And you are planning to use QR Codes for your use case. And your use case requires QR Codes in bulk. For example, identity cards, product catalogues, inventory management, or postal mail campaigns. And you are looking for a professional bulk QR Code generator tool.
For this, you do a quick Google research. And get pages of results. But how do you know which bulk QR Code generator tool will suit your purpose best?
To make your task easier, we have done a comparative analysis of the best bulk QR Code generator tools. This will help you decide the best one for your use case.
Keep reading.
A. How to spot the right bulk QR Code generator for your purpose
While choosing a QR Code generator, you will obviously have some requirements in mind. These would include details such as as pricing and the time taken to process a batch.
And a good tool should complete the required task in an easy and cost-effective way.
So, while choosing the best Bulk QR Code Generator for yourself, keep the following features in mind:
1. Choose from multiple QR Codes categories
You choose a QR Code category according to the content you want to add. For example, if you want to add text in the QR Code, you will select the category of Text QR Code. Likewise, if you want QR Codes for inventory management, you will most likely create Serial Codes QR Codes.
Or say you want a QR Code for business purposes— QR Code based business cards. For this, you will need to create a VCard QR Code. And you will look for a bulk QR Code generator tool that offers this category.
Advanced QR Code generator tools offer multiple categories. It could be Website URL, Text, VCard, Random code, or Serial Code QR Code.
Choose the bulk QR Code generator that provides the content category that you need.
2. Create custom-designed QR Codes
Say for an event, there are black-and white QR Codes on different spots. How many people will actually notice it? And actually scan it?
A black-and-white QR Code is dull and boring to look at. But if you add colors and design to your QR Codes, they become a point-of-engagement.
Think of a custom-designed QR Code as a piece of art. That is, you can add a logo, colors, or even a background image to it.
In addition, you can also change the pattern and color of QR Code's eyes and data modules.
Also, you can even upload your custom image or background to your QR Code design to make it distinct.
A branded QR Code also attracts 50-200% more scans as compared to plain black-and-white QR Codes.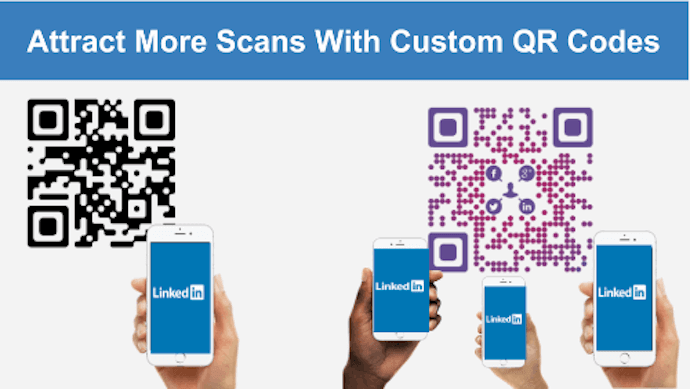 So if your use case requires you to differentiate your QR Codes, then choose a bulk QR Code generator with design features.
3. Add error correction to QR Codes
With adequate error correction, you can ensure that the QR Code remains scannable.
So, error correction is very important if you are adding a logo to your QR Code.
Plus, it is also important in cases where the QR Code is vulnerable to wear and tear. For example—QR Codes on product packaging to manage inventory. Here, QR Codes are subjected to the factory and transportational damage. Thus, they're susceptible to damage and dirt.
Error correction will ensure that the QR Codes are scannable irrespective of slight damage or dirt.
So choose a generator that allows you to add and modify error correction as per requirements.
4. Generate high-resolution QR Code images
Any common bulk QR Code generator tool will help you export QR Codes in raster formats such as PNG and JPG. Only advanced QR Codes will facilitate exporting QR Codes in vector formats such as SVG.
For the uninitiated, vector images do not pixelate despite any resizing.
Plus, vectors format is what your designer will usually ask for. That's because it is preferred for Adobe Indesign, Illustrator, and Photoshop.
So, make sure that the bulk QR Code generator tool you choose allows you to export vectors in the required size.
5. Modify quiet zone
While designing the QR Code, you would want it customized to your needs, right?
Having control of the quiet zone is one way to do just that. So what is a quiet zone?
The quiet zone is a blank space on all the four sides of the QR Code. It serves as a guide and tells the scanner from where the QR Code starts and stops.
It also prevents the scanners from picking up on information unrelated to the QR Code.
A good bulk QR Code generator like QR Batch lets users modify the quiet zone's size. It helps users with designing the right QR Code size. It also ensures easy scannability.
6. Export QR Codes in required size
Say you want QR Codes on business cards or want to place them on hoardings. You'd need to make sure you choose a bulk QR Code generator that allows you to export the QR Codes in the desired size.
Also note that the minimum size of a printed QR Code should be at least 1.2 inches or 3 cm or 360 pixels (300 DPI) in width and height.
To calculate the ideal size of the QR Code for your use case, see our guide on QR Code minimum size.
7. Generate printable QR Codes labels
If you're generating QR Codes in bulk, there is a high chance that you need to print these on labels. You can then easily peel the label sticker and paste the QR Code at its designated place.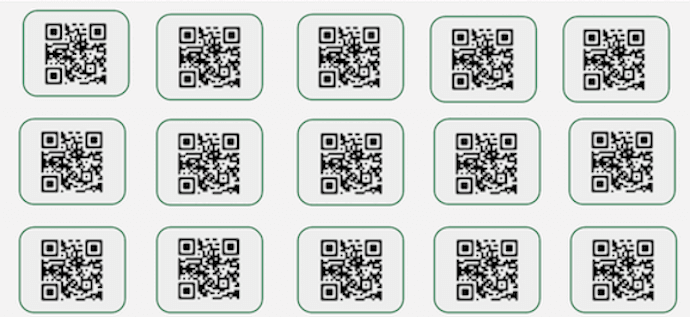 Basic bulk QR Code generators will only allow you to generate QR Code images. To create labels, you will need to use the mail merge feature on MS-Word document. This is a highly tedious process.
But an advanced bulk QR Code generator tool such as QR Batch allows you to directly export QR Code labels PDF. You can choose from a list of 10 standard label layouts. Plus, you can also choose the QR Code label size you need. This option is available for both standard and custom-designed QR Codes.
8. Generate QR Code batch quickly
Many online bulk QR Code generation options are actually services. That is, you send the datasheet with data to be added in QR Codes. And in turn, the service providers will deliver the QR Code images (via Email or FTP) in a couple of days. Such service providers are also expensive as they involve human intervention. Such a service fails if you need the QR Codes quickly.
So if you need your QR Code batch quickly, use an online tool that is completely automated. This will help you generate QR Code batches in a matter of minutes/hours. Note that automated tools also provide technical support in case of any issues.
9. Multi-lingual support (Spanish)
English might be the universal language, but not everyone can understand it.
What if you were able to read and comprehend the website's content in your preferred language? That would be great, right?
While creating bulk QR Codes, multilingual support could do wonders. It would help your audience interact with the website's content easily. Additionally, it would speed up the process of QR Code creation.
Multilingual tools such as QR Batch offers a user-friendly platform for your users. It helps them interact with the website in their preferred language (more languages to be added in the years to come).
10. Customer Support
Say you need assistance from the service provider due to some technical issue or your custom needs.
Here, your QR Code service provider must be up for the job. So look for a service provider that can provide you with any help you require. And most QR Code generators do provide customer support via email, phone, live chat, or WhatsApp.
11. Provide multi-factor authentication
Multi-factor authentication ensures an extra layer of protection to your account.
Here's how it works—say you are creating an account with your QR Code generator. And you have used a password for login and security purposes. But somehow your password gets stolen. This may put your account's safety and data privacy at risk.
But multi-factor authentication is here to help you tackle this problem. It ensures that no unauthorized user can access or hack your account. How? Well, by asking you to enter additional authentication methods such as email, phone, etc.
Hence, with multi-factor authentication, your QR Codes, data, and campaigns remain safe.
12. Pay a sensible price
Most of the bulk QR Code generator tools do not have a subscription plan. They are generally based on a pay-as-you-go model. That is, you only pay a one-time fee for the QR Codes you generate in a batch. No subscription is required.
So, choose a QR Code Generator that does not exceed your budget. In other words, has sensible pricing.
So these were the features you should keep in mind to make the right choice.
B. Best QR Code Generator tool—A Comparison Chart
So now you know what features to look out for when you choose an online bulk QR Code generator. But still there are many available options when you Google search. It won't be possible to go through each—it will be a task and consume a lot of your time.
But don't worry.
We conducted exhaustive research of the best bulk QR Code generator tools. And came up with a comparison chart. This will make your work easier. And help you select the one that meets your requirement.

So, this is all you need to know to choose the right bulk QR Code generator tool. And if you are looking for the next step—here is a detailed guide on how to create QR Codes in bulk.
Choose best bulk QR Code generator tool
Create visually appealing static QR Code images and printable labels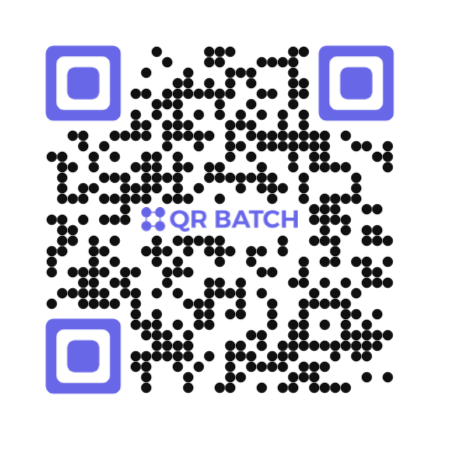 ""