You probably have seen people wearing a wristband or bracelet. Most of the time, it is just a piece of jewelry worn for its alluring aspect.
But there is another side to the bracelet—its functional aspect. Many industries are leveraging this side more than its attractive appearance. For example,
The healthcare sector uses them for patients to store and share their health status
The Event organizers use them to grant entry to attendees
Parents or guardians put them on their children containing their home's contact details
This list goes on and on. And the use cases are endless and are a mix of both—adornment and functionality.
QR Codes technology can help bring both of them together. Wondering what QR Codes are?
Well, QR Code is a 2D barcode that can store a lot of information and is easily scannable with a smartphone.
In the subsequent sections, we'll talk in detail about QR Code bracelets and how to create one for your use case.
A. QR Code-based bracelets
QR Code-based bracelet helps you share more than just textual information. Here, you can also share multimedia files, website links, social media handles, and a lot more.
When scanned using a smartphone, the end-users can see all the encoded details within seconds.
And here are some reasons that make QR Code-based bracelet a good choice:
First, QR Codes have a high-speed scannability and come alive within seconds of holding your camera in front of them. This means an amazing and fast interactive experience for the end-users
Second, QR Codes do not expand with the amount of information they store. So they can store a lot of information in a tiny space
That's why QR Codes are great when the printing space acts as a constraint.
Third, you can customize the design of a QR Code. You can add your company's colors, logo, or background image to it
Fourth, they are impossible to duplicate. None can really tamper with the content coded in your QR Code. That means better security than printed bracelets alone for confidential information
Fifth, QR Codes are damage-resistant. This means even if the QR Code is subject to slight wear-and-tear, it will still work
Finally, you only need a smartphone to scan the QR Code. No need to install any expensive setup to do the job
B. Popular use cases of QR Code bracelets
You now know why it makes sense to use QR Code-based bracelet. Let's now see various popular use cases from which you can take inspiration:
It is very common in the healthcare industry for patients to wear a bracelet. This is mainly done to store and share their health status, reports, medicines, and even register for their attendance.
But here's the problem with traditional bracelets—they don't have enough printing space for this much information. Moreover, even if you somehow manage to print it, the text is too small to be easily readable.
So, the healthcare professionals came up with a brilliant idea—adding QR Codes to wristbands. Since QR Codes can store a large amount of information in a small space, it does make sense.
This means the medical staff can easily access the patient's whole medical information with a simple scan. No need for heaps of paper-based reports.
Parents and guardians are always concerned about the safety of their dear ones. In addition, the curious and carefree nature of children sometimes makes them wander off to unfamiliar places. When that happens, it causes panic among the parents.
In such situations, many families often make their little ones carry their home's contact details. They do it using ID cards and even wristbands.
This is where VCard QR Code can help you out. You can add your contact information to it. It could be your name, contact number, email, address, website, and even your social media handles.
Just place it on a bracelet and put it on your child's wrist. Scanning it will help people contact you in case of any emergency.
3. Boost event promotions
Do you organize events regularly? And part of the same is to provide event tickets to attendees. And to do it, you'd probably use paper-based tickets.
But here are a couple of challenges you'll need to consider while using paper-based tickets:
Unauthorized entries: This is one of the most common challenges faced in events. And as an event manager, you need to ensure that no unauthorized entries are granted
But paper-based tickets are quite easy to duplicate. They not only cause a security risk to the event but also causes business loss.
Contactless arrangements: Pandemic has made contactless arrangements the new norm. And to ensure the guest safety, you'd like to adopt safety measures too
But paper-based entry tickets can't help you do that. They can act as carriers of potential diseases, risking the health of both attendees and employees
A secure and fast check-in: Since you are organizing an event, you'd have hundreds or thousands of attendees. And validating paper tickets for each one of them takes a lot of time leading to long queues at the entry gate
Event bracelets with QR Codes can help resolve these challenges. QR Codes can store the guest's information and can be scanned quickly with a smartphone.
The responsible personnel just need to scan it to verify the guests' details and authorize the entry. This not only ensures saved time and money but also ensures event safety.
You'd just need a smart QR Code generator to create such QR Codes smoothly.
4. Unique gift for loved ones
Similarly, if you are planning to host a private party or a surprise for a loved one, you'd want them to feel special.
As a part of the same, you may also want to give them a gift. And nothing beats a gift that can give them an interactive experience to convey a personalized message.
This is where QR Codes can help you out. They can help you to deliver a special text message, video, audio, create a whole mobile landing page, and do a lot more!
Moreover, you can also customize QR Code's design as per the theme to make it look visually appealing.
You can get a professional jewelry service to help you engrave the QR Code on the bracelet.
C. How to create QR Code-based bracelets
Now you know how a QR Code can make your bracelet smart. Let's see how you can create QR Codes:
1. For a small number of QR Codes
If you need a QR Code for a personal use case, then you wouldn't require say hundreds of them.
In that case, you simply need a QR Code generator. It offers you a wide range of QR Code categories to choose from. For example, Audio QR Code, Website URL QR Code, Event QR Code, etc.
You can find various QR Code generators online. But comparing each result to find the best one is a tedious process. For your convenience, here is a detailed comparison of the best QR Code generators available online. You can go through it to find the best one for yourself.
Once finalized, you can go ahead and create your own first QR Code. To help you get started, here's a step-by-step guide on it.
2. For bulk requirements
If you are a manufacturer, you'd need to create QR Codes for many bracelets. So, it won't be feasible for you to generate QR Codes one by one. Hence, you'd need a QR Code generator that allows you to create QR Codes in bulk.
You can head on to any search engine and find the best one for yourself. Using QR Batch here to demonstrate how to generate QR Codes for bracelets:
1. Create a spreadsheet containing all the information to be added to the tags in CSV, XLS, or XLSX format
Note that the first column should be 'Filename'. And second column onwards, the information would vary depending on the type of QR Codes you create. Here's a detailed guide on how to create a spreadsheet.
2. Go to QR Batch and sign-up
3. Now, depending on what content you want your end-users to see, select the batch type
Once done, proceed to choose the relevant QR Code category.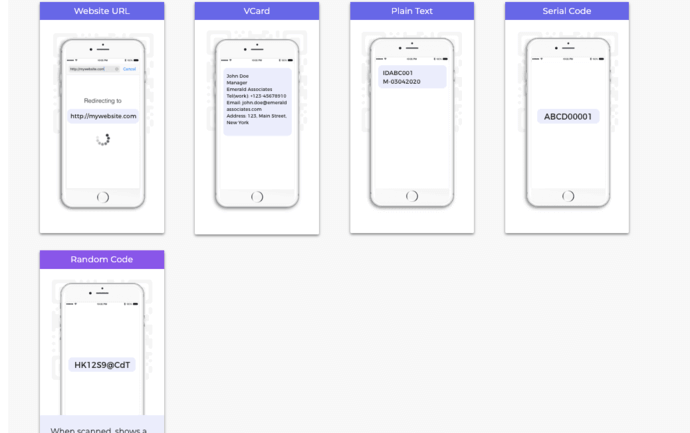 For example, if you want to encode contact information, you'd have to select VCard QR Code
4. On the page that loads, upload the spreadsheet and click Review Data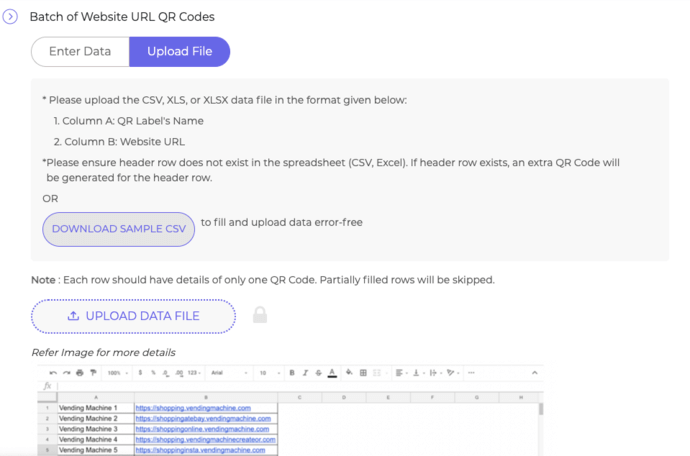 5. Now, match the columns from the drop-down menu with those in the spreadsheet and click Confirm
6. Once you've reviewed the data, click Next
7. Now, you'll see three design options to choose from—Standard Design, Custom Logo Design, and Custom Background Design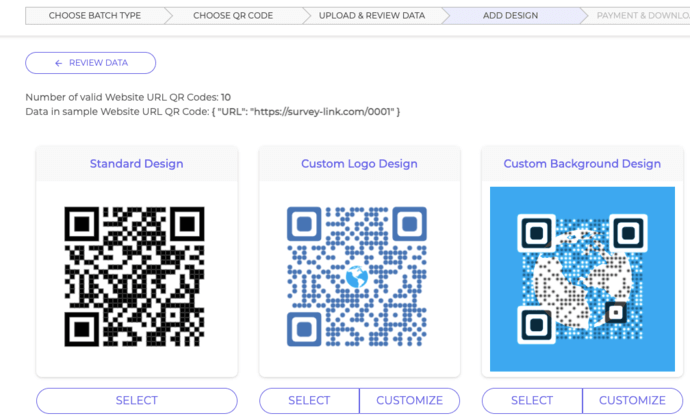 8. After finalizing the design, click Select
9. A window will open prompting you to name the QR Code Batch and specify the export options
10. After you specify the details, proceed ahead
11. On the page that loads, click Proceed To Payment. Once you complete it, your batch of QR Codes will start getting processed
12. After it gets processed, you'll receive an email attached with a zip file containing the QR Codes
Alternatively, you can also download the batch from the My Batches section on the dashboard.
Now you know why it makes sense to use QR Code bracelets. So don't wait up and make your bracelets better and more innovative by creating QR Codes.
Bracelets Made Smarter
Ensure Safety and hassle-free experience