You are the local administrator of forest, civic, or tourist body of your town. And part of your job includes promotion, management, and safety of nature trails in your area.
But you do meet many challenges on day-to-day basis such as:
1. You want to make the trails more engaging for tourists—a deep learning experience. But within a nature trail, it's difficult to promote any activity that could achieve this.
2. You also want to ensure that tourists remain safe and informed during their journey. This can be difficult without adequate manpower. That is, tourists get lost, injured, or attacked. And many-a-times you become liable for this loss.
Yet, what if I tell you that you can actually resolve all the challenges. And make nature trails all the more fun and all the more safer for tourists.
All you need to do is create QR Codes and put it on different spots of the trail. Many administrators across the world are already doing this.
Keep reading.
A. QR Codes on trails— The ways you can use it
For the uninitiated, QR Codes are 2D barcodes that can store linked information. People can scan them via their smartphones to access the content encoded within.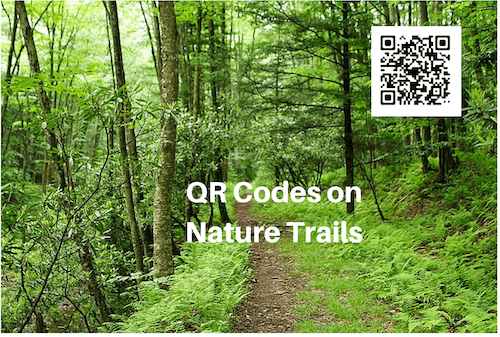 They are being used for various use cases from payments and product packaging to travel and tourism.
And to access information in a QR Code, there are two things that are pre-requisite:
Scanning Application:

This could be your smartphone camera or any other scanning application. For example, QR and Barcode Scanner, Scanbot, or QR Code Scanner.

You can more about scanning a QR Code here
Proper internet connection: QR Codes are mostly linked to web content.

Hence, an internet-connected smartphone is often needed to access the encoded content
Here are some use cases of how QR Codes can be used on nature trails:
a. To provide detailed information
QR Codes are linked to web pages that can share detailed information. So, on a nature trail, you can use QR Codes to provide:
Detailed information about the flora and fauna
Details and anecdotes about the natural landscape
Information about the do's and dont's during the trail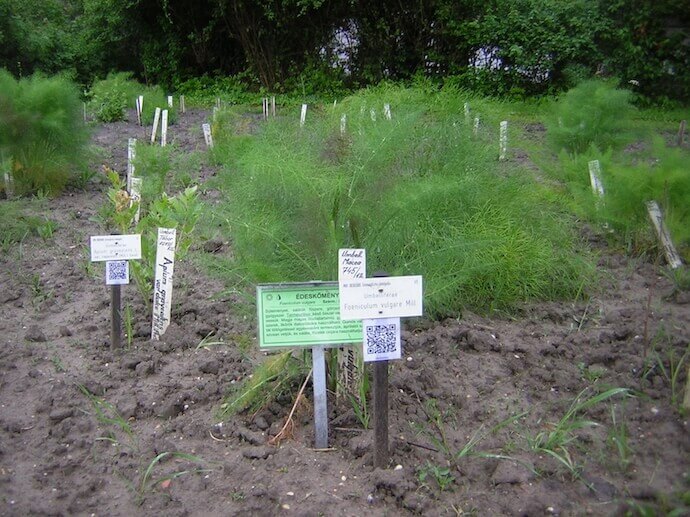 And here are some examples of how city administrators across the globe are using it:
1. New Delhi, India
In January 2019, Lodhi Gardens in New Delhi, were equipped with QR Codes on about 100 trees. On scanning via a smartphone, these QR Codes give information regarding the tree's age, botanical name, lifespan, common name, blooming season amongst others.
"For the first phase, 100 trees have been selected in the garden where QR codes will be installed. This will make people more interested in nature,"
—a senior New Delhi Municipal Corporation official said.
Both old trees and new plantations will be installed with QR Codes to make the walk over the vast area of Lodhi gardens informative and enjoyable.
2. Wellesley, United States
In May 2019, the Nature Trail on Guernsey Sanctuary on Sabrina lake identified 72 specimens of flora to be equipped with QR Codes.
Each QR Code encodes the common and scientific name of the selected specimen. Besides, tourists can also access photographic information upon scanning the QR Code.
The main purpose of the project was to provide an interactive session to tourists.
And now that you know QR Codes can actually enrich tourists experience on trails, the next question is to create QR Codes.
To provide detailed information, you will either encode a URL or text in the QR Code.
And for the above use cases, the number of QR Codes you will need is high. And hence, it will not be feasible for you to generate QR Codes manually. So, to create QR Codes in bulk, you will need a bulk QR Code Generator tool.
How to create QR Codes in bulk
In this article, we will use QR Batch for demo purposes. These are some easy steps that you need to follow:
1. Ceate a spreadsheet and an account
a. Create a spreadsheet containing all the information in CSV, XLS, or XLSX format (via Google Sheets or MS-Excel). And to do it, you need to follow this format:
The first column should be 'Filename' which is the name of the QR Code or the respondent here for identification reasons

The second column's

information would vary depending on the type of QR Codes you create.

It could be URL or text
For further assistance, see this detailed guide on how to create a spreadsheet.
b. Go to QR Batch and sign-up
Note that you can sign up for free. You pay only when you generate QR Codes
c. Now, click on the category that suits your purpose the best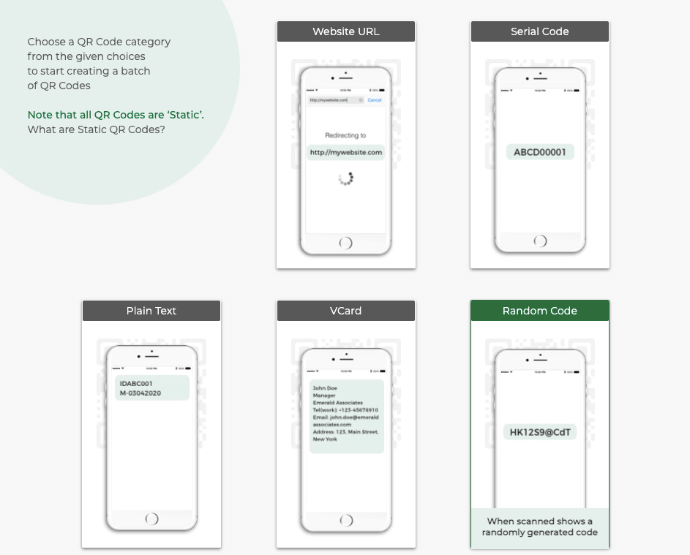 2. Upload data and review it
d. Upload the spreadsheet in the given option and click Review Data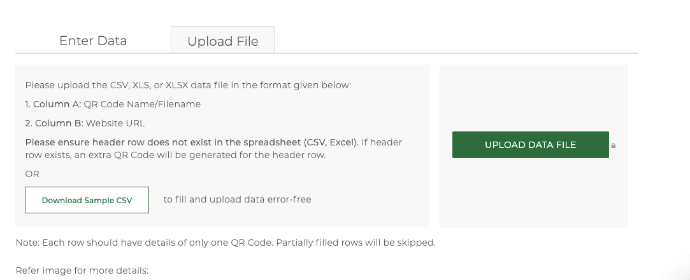 e. Now, match the columns from the drop-down menu as per the data you encoded in the spreadsheet and click Confirm
f. Once you've reviewed all the data, click Next
3. Add a design
g. Now, you'll see three design options to choose from—Standard Design, Custom Logo Design, and Custom Background Design. Here, you can customize the design of the QR Code. You can add your company's logo and colors to make your QR Code personalized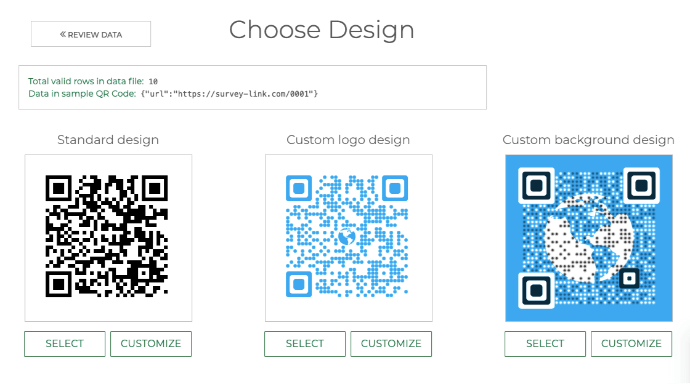 h. After finalizing the design, click Select
4. Specify the batch name and other details
i. A window will open prompting you to name the QR Code Batch and specify the export options. Here, you can choose from the following two export options: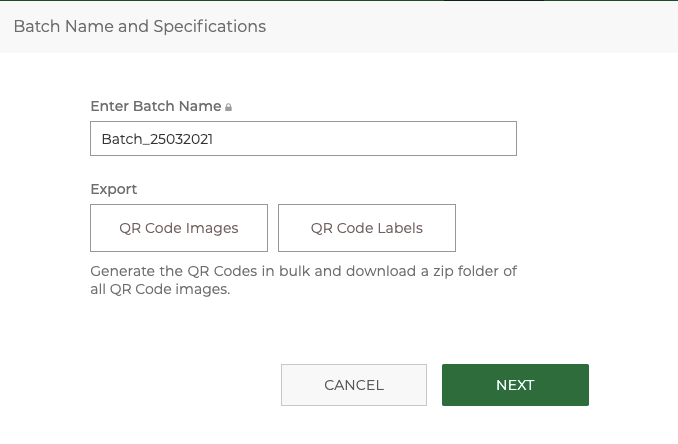 As images zipped in a folder—specify image format and size
As printable QR Code labels PDF—specify page layout
5. Make payment and download batch
j. Review all specifications and price. If all looks fine, proceed to make payment
k. Your QR Code batch will start processing. It should be ready for download in a few minutes or a couple of hours, depending on the size. When ready, you'll receive an email attached with a zip file containing the QR Codes
Alternatively, you'll also be able to download the batch from the My Batches section on your account dashboard.
To know more about creating QR Codes in bulk, refer to this detailed guide
b. To provide safety to tourists
Safety is the foremost thing that a tourist demands and QR Codes can facilitate that. Using QR Codes, you can:
Provide detailed safety instructions, precautions, and details about prohibited areas
Share the maps on different spots to ensure tourists do not get lost
Provide emergency contact number and other details
Here are some use cases of how QR Codes are being used to ensure tourist safety:
1. Bolton, England
The Forest and Park Association in Shenipsit trail at Risley pond, Boston uses QR Codes to show trail maps and trail information. The aim is to provide tourists an easy and hassle-free nature trail.
It is important to get maps and information of the trail to the hikers. With QR Codes, they will keep the trail well blazed and ensure that hikers do not get disoriented in some areas.
—Eric Hammerling, Executive director of Forest and Park Association
The same initiative has been taken in other areas like Mattabessett trail in Middlefield, Brooks Road and Seven Falls State Park in Middletown.
In all these areas, upon scanning via a smartphone, the QR Code shows trail maps to help hikers in the middle of the forest.
How to create QR Codes one-by-one
For the above use cases, you will not need QR Codes in high number. So, you can create QR Codes simply by QR Code generator tool online.
To share the map of the nature trail, you can create a PDF QR Code or an Image QR Code. The tourists will just need to scan the QR Code to access the information.
In order to share emergency contact details of the respective person, you can create a V Card QR Code. Upon scanning via a smartphone, the end-users can instantly access the contact details.
Moreover, to provide safety instructions, do's and don'ts, and other warnings on a nature trail, you can also create QR Codes. For example, a Text-based QR Code or a Website URL QR Code.
c. Entertainment
Besides information and safety, you can also provide entertainment to your tourists using QR Codes. That is, you can provide fun activities like:
Provide feedback forms or ask them to 'Leave a comment'
Ask them to share post on social media
Provide them fun questions or games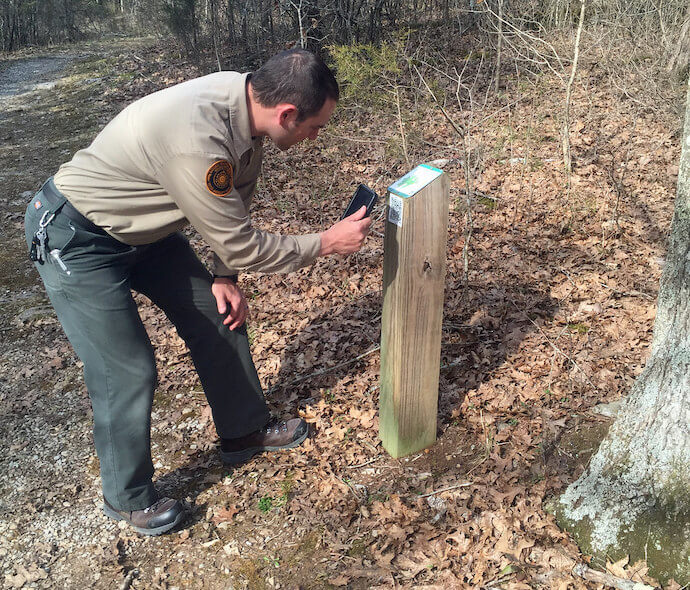 Here is a use case:
1. Yorkshire, England
In July 2019, a nature trail in wildlife in Thornton-le-Dale started using QR Codes to foster interest in nature.
The QR Codes are included in a booklet that can be collected from Wardills Newsagents or Bauldersons cafe in the village centre. They contain a plethora of questions and fun activities which one can do on a trail like— dipping in the pond water, among others.
The aim of QR Codes is to provide a reminiscing time to children. And the feedback is that—children have loved the natural trail so far!
2. Sanibel Island, Florida
The J.N. 'Ding' Darling National Wildlife refuge in Sanibel Island, Florida has designed an iNature trail using QR Codes. And they have segregated QR Codes into 2 types: Child oriented and Adult oriented.
For example, one of the child oriented QR Codes show how kids can flap their hands like an osprey.
"The main aim of the QR Code is to make the activity fun for kids as they are the ones the group wants to take on a tour as well as the one who are more hooked on their mobile phones"
—Toni Westland, Supervisory of the refuge
The QR Codes also have short YouTube videos that explain refuge sights.
So with a QR Code aiding nature walkers, the role of a naturalist to give a talk about the trail, or the flora and fauna just eliminates.
How to create QR Codes for this use case
Again here, as the number of QR Codes you need is low, you can create QR Codes manually.
For example, for review/feedback of the trail, you can encode the link of the feedback form in the QR Card.
Similarly, for allowing them to share their pictures on social media, you can actually create a readymade template, and encode it in the QR Code. Upon scanning, tourists will be asked to enter their social media account ID, add any thought/picture they want, and share it on their accounts. For this, you can create image QR Codes.
Likewise, you can create video QR Codes and encode fun-filled videos.
So, now you know how QR Codes can ensure all what tourists seek— a learning experience, safety, and fun activities on nature trail.
Exhaust smartphone technology now and use QR Codes on nature trail to make them worth reminiscing.
Create QR Codes for Nature Trails
Create visually appealing static QR Codes for nature trails to engage tourists.